The Blogger's Word – Rocky Mountain Frontiers and Western Terrains – Part 4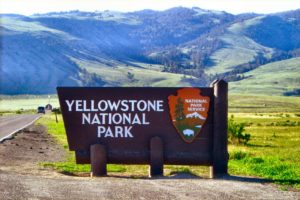 'A journey of a thousand miles must begin with a single step' Lao Tzu wrote and my personal journey on this momentous day of the Rocky Mountain Frontiers trip begins at 5 in the morning with a hot shower.  It's quite a chilly morning in Cody – there are stars in the sky – as I take a short walk outdoors before going into the nearby OT's for breakfast at 6.  For a change I decide not to go for the buffet breakfast, but instead opt for the All-American Skillet plus toast from the menu.  It proves to be a good choice and welcome alternative.  Adrian comes into the restaurant not long after me and seems surprised by my presence – 'Were you out hunting?' he inquires jovially before placing his own particular order.  By now I think he knows me for my early starts and unseasonable-looking shorts.  But I'm still confident that warmer weather is on the way.  By this coming weekend we will be in Moab, Utah; surely temperatures in the 30s by then I tell myself as I brave the elements outside once again.  The prolific rabbits are still to be seen everywhere in the Buffalo Bill Village and I wonder why they have chosen this place as their residence of preference.  Must have something to do with a nearby and friendly food source I'm sure.  Perhaps they have their own version of the All-American Skillet served up to them.  Who knows.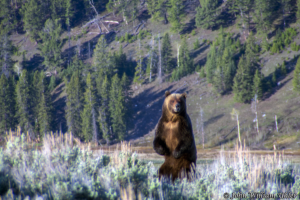 En route to Yellowstone Park this morning, Adrian takes the time to remind us of what we are essentially visiting.  The first national park in America – and also probably in the world – the area is the largest supervolcano on the continent which has erupted a couple of occasions over the last two million years.  On-going volcanism fuels the prominent geysers and hydrothermal features to be found here including Old Faithful and the Steamboat Geyser.  The most recent eruption, which occurred some 640,000 years ago, released more than 240 cubic miles of of ash and rock and other materials.  Any future such eruption (which will eventually happen one not so very fine day) will blanket much of central North America with ash.  Talk about climate change and you will have a scale and extent here which will have cataclysmic repercussions for the continent and indeed the world as a whole.  But no sense in worrying about this right now.  If the scientists have this right, the next such eruption will probably occur sometime in the next 160,000 years.  For this present generation, that's neither today nor tomorrow.  And, as for the present time, I fully expect to find the 2,219,789-acre park intact on this 5th day of September.  Just outside the park entrance a grizzly bear and her two cubs are spotted and it's time for the first photo stop of the day.  But Adrian is very anxious that we do not dally.  After a minute or two, he insists that we get back on the coach immediately.  These bears can move very fast when they adapt an attack mode and the presence of her young means that this particular mom does not take kindly to human interest of any sort.  Fortunately, none of us are maimed in the process of our incessant camera clicking.  Adrian, for his part, is mightily relieved.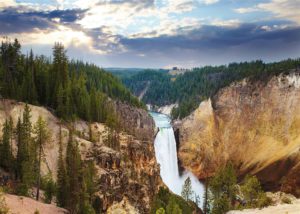 It's a beautiful clear day as we arrive into the environs of the park at 9.15 and we proceed to the first official stop of the day by Yellowstone Lake at 9.45.  Our first sighting of the many bison which roam in herds throughout the park comes at 10.15 approximately and then there's a coffee and toilet break at 10.40.  Moving on again half an hour later, our next stop at 11.25 is something of a challenge to the nasal passages.  The hot volcano mud area provides quite a stench which Adrian correctly likens to the unwelcome aroma of rotten eggs.  Food is not recommended at this particular juncture and you will probably think twice about an egg sandwich or an omelette later on.  Not good if you happen to be suffering from a hangover either I suspect.  The following stop is a much more pleasant experience for the senses involving, as it does, the Lower Yellowstone Falls.  For the record, this is the largest volume waterfall in the Rocky Mountains and is nearly twice as high as Niagara Falls.  It's a spectacular viewpoint for the camera-happy tourist and we all become our very best version of Ansel Adams as we gaze upon it.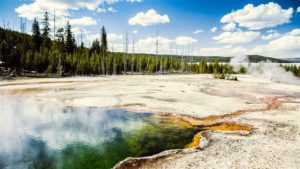 Our lunch stop for the day takes place at Canyon Village which is located on the east side of the park near the Grand Canyon of the Yellowstone River.  Still recalling the unpleasant smell of earlier, I give everything with egg in it a wide berth and opt for the relative safety of a tuna sandwich and crisps with a juice.  Sitting outside for this lavish meal, myself and one of my fellow travellers try to remember the name of the park ranger from The Yogi Bear Show.  I venture to guess that his name is Ranger Smith which proves to be correct.  The only thing I manage to forget is the fact that the park in the show was called Jellystone and not Yellowstone.  Important stuff this.  But, alas, there is not a picnic basket in sight nor a single sighting of Yogi or Boo-Boo.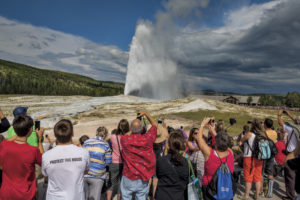 Departing Canyon Village at 2 p.m., we head in the direction of Old Faithful.  Yellowstone's most famous geyser, Old Faithful erupts every 91 minutes on average.  The next such eruption is due at 3.56 this afternoon as Adrian informs us.  We will have you there on time he advises, but the key consideration is to be in attendance at least 10 minutes prior to the predicted eruption.  Sometimes Old Faithful can go off early.  On occasion it can be even ten minutes after the estimated time.  Having purchased some souvenirs in the nearby shop, I'm anxious to pick out a good seat so that I won't miss the forthcoming performance.  No point in coming this distance and disappointing Old Faithful by my lack of attendance.  And so I take my place with many other expectant visitors at 3.35.  Cameras and phones at the ready, we steady ourselves for the event as so many others have done before us.  At 3.50 approximately, the old lady takes centre stage.  Shutters click rapidly and mobiles are held aloft in the air.  The eruption at its peak lasts for a little over three minutes by my reckoning.  It is more than worth the anticipation.  Old Faithful has repaid this day's journey a few times over and then some.  She certainly merits the name given to her by the Washburn-Langford-Doane Expedition of 1870.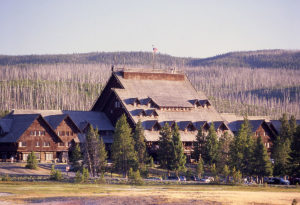 Running into Stephen a short time after this, the two of us decide to check out the Old Faithful Inn which is nearby.  First opened in 1904, this is the largest log hotel in the world, possibly even the largest log structure of its kind.  Inside, one cannot but marvel at the architecture and design which contains four storeys of balconies and many other rustic features.  Little wonder that it's designated a National Historic Landmark.  Quite a place to stay in as a guest I venture to imagine.  Our own place of rest and relaxation for the evening is the town of West Yellowstone which is located in Gallatin County, Montana.  Arriving at the Brandin Iron Inn at 5.35, the by-now usual routine of roll call and key cards is observed before heading out again for a bite to eat.  A diner on the main street catches the eye, but the waiter, by the name of Cody, is not exactly the most enthusiastic or efficient attendant of all time.  The dish which I choose – titled the James Dean Sandwich – is certainly more than up to scratch, but the Blue Moon beer which accompanies it takes forever and a day to be served.  Privately, I wonder if Cody is having to brew it himself in the kitchen such is the length of the delay.  Nonetheless I tip him for his service (or lack of more to the point).  Perhaps he will improve in time.  Perhaps his service will become more frequent than Old Faithful's eruptions.  The long and very fruitful day draws to a close as I buy some presents for my nephew who I hope will be suitably chuffed with his Yellowstone National Park t-shirts.  I don't need much persuading with respect to the need for an early night following this glorious visit to Yellowstone.  Yogi Bear eat your heart out.  This was indeed a day to treasure and I managed to lose no picnic baskets in the process.