The Blogger's Word – Rocky Mountain Frontiers and Western Terrains – Part 6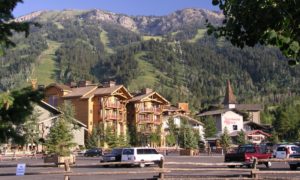 'If you reject the food, ignore the customs, fear the religion and avoid the people, you might better stay at home.' – James Michener
My morning rise on this the sixth day of the Rocky Mountain Frontiers tour is at 5.15 and it certainly is a day which promises much contrast with respect to tone and tempo.  The parking area of The Virginian Lodge is relatively quiet and dark as I take a quick stroll before breakfast and I'm grateful when the restaurant opens ten minutes earlier than the advertised 6.30.  My waitress this morning is a woman named Cindy and the petit dejeuner of choice is appropriately named the ranch breakfast which consists of potatoes, sausages, poached egg, sourdough toast and coffee – nothing very petit about that I must admit.  Having tipped Cindy on my way out, the customary routine of returning to my room and retrieving my bags is followed and it's not long before we're hitting the road again at the appointed hour of 8.  At an early point of our journey today, Adrian has some news regarding one of the optional excursion tours – the Moab Jet Boat Tour will not be on offer in Utah as the Colorado River is too low for it.  Having expressed an interest in all five optional tours, I promptly cross this one off the list.  At least it's a little bit of extra money I think to myself – perhaps I'll check out another tour in Moab by myself; perhaps I'll buy a few more Moab t-shirts for yours truly.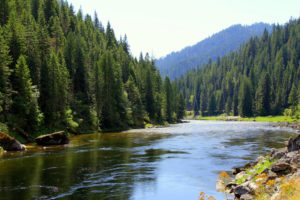 The towns of Thayne and Grover in Lincoln County, Wyoming are traversed before we have a break stop in Afton at 9.25 a.m.  Yet another Starbucks cup of coffee is duly purchased and consumed.  I'm also trying out every variety of M&M's on offer just to keep the sugar levels up of course.  My one disappointment is that I can't find a packet of the pumpkin pie ones which I enjoyed so much on the Western Discovery trip last year – oh well, I guess even in America you can't have everything.  Departing Afton at 9.50, we then pass through a tiny portion of the state of Idaho for approximately one hour.  The Gem State is the 14th largest in America and renowned for its potato crop which comprises approximately one-third of the nationwide yield.  Try as I do, I fail to spy any potatoes, but there is some fine scenery on offer to make up for that.  Having passed through the John Bridges National Forest, we enter the small city of Montpelier at approximately 10.40.  Located in Bear Lake County, Idaho, this was the site of a bank heist by Butch Cassidy and his Hole-in-the-Wall Gang in 1896.  The name Montpelier was bestowed on it by Brigham Young, one of the founding fathers of Mormonism – but more about The Church of Jesus Christ of Latter-day Saints in a very short while.  Passing into Utah at 11.15, we are now in a state which is the only one of its kind in the USA with a majority population belonging to a single church.  It's my second time in The Mormon State, but later in the day will bring my first visit to its state capital Salt Lake City.  Like I said, a day of much contrast.  Three different states and quite a shift in perspectives as well.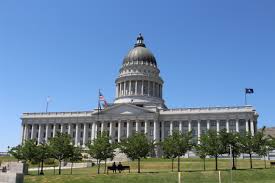 There's a photo stop overlooking Bear Lake on the Utah-Idaho border at 11.30 and we're promptly on our way again at 11.50.  The city of Logan in Cache County provides us with our lunch stop of the day at 12.40.  At the nearby Smiths Supermarket, I procure a turkey club sandwich and orange juice.  Well, I can't live on M&M's forever after all.  The temperature has noticeably risen with our journey and finally I'm justified in wearing my shorts after those chilly mornings in the likes of Cody and West Yellowstone.  Having devoured the aforementioned turkey club sandwich in the parking lot, I hit the road again with my group at 1.30.  At 3 p.m. precisely, we make our way into Salt Lake City – Utah's largest urban area.  The first party of Mormon pioneers led by Brigham Young founded this the first European settlement in Utah.  Appropriately enough, our first port-of-call is the Utah State Capital building which was formally dedicated in October 1916.  Housing the chambers and offices of the Utah State Legislature and other such officialdom, the building is especially noteworthy for its neoclassical and Corinthian styles.  There are a plethora of paintings and murals in the interior and one of the most conspicuous is that of seagulls flying in the clouds which represents the Miracle of the Gulls from Utah's history.  For those who are not aware (and I was not myself before this), this was an 1848 event in which seagulls apparently saved the Mormon crop by eating thousands of insects which were devouring this much-needed harvest.  There's also a Seagull Monument to be seen in Temple Square.  These seabirds do more than just steal mobile phones or feature in a famous Alfred Hitchcock movie.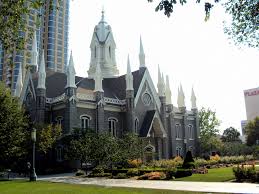 This leads into our visit of Temple Square which begins at 3.55.  Beforehand, Adrian explains why we must do this unaccompanied.  A ten-acre complex in size in the centre of the city, the square is sacred to the Mormons and, evidently, they do not take kindly to guided tours in this National Historic Landmark District.  Ambling about by ourselves on this basis, we view the Salt Lake Temple, the Salt Lake Tabernacle, the Salt Lake Assembly Hall and the previously-mentioned Seagull Monument.  The Handcart Pioneer Monument by Torleif S. Knaphus is one of several which also litter the square.  It's a beautiful day and a general tranquil atmosphere informs the air.  But none of us are converted during this visit as we all board the coach again just after 5.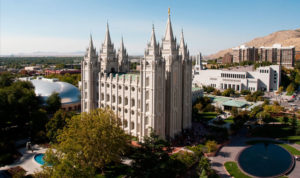 The hotel we're staying in for tonight – The Little America Hotel – is definitely one of the best on this particular trip and certainly the most luxurious.  One curiosity in the bathroom is the location of the small fridge which is just in front – and within touching distance – of the toilet.  Would be handy for reaching for a cold beer if you were that way inclined I think to myself.  But alcohol is not an easy substance to come by in Mormon territory as we know and appreciate as we venture out on the second of the optional excursions.  The social occasion for the evening is dinner in The Roof Restaurant located in the Joseph Smith Memorial Building.  A fantastic buffet is on offer on the building's 10th floor, but some of us bemoan the complete lack of alcohol.  This is like Good Friday of old one of my fellow Irish travellers remarks in such a vein.  And, so, pink lemonade is as good as it gets for the evening.  Those beers will have to come at another time and in another place.  But, as the opening quotation of this particular chapter of the Rocky Mountain Frontiers trip suggested, what use is travel if you are not willing to embrace a smidgen of change and a small variance to the norm.  With that very sentiment in mind, I duly turn in at 9.30 following a sumptuous repast.  A day of differences indeed.  But differences which were entirely agreeable to this by-now seasoned traveller…well almost.