The Blogger's Word – Rocky Mountain Frontiers and Western Terrains – Part 7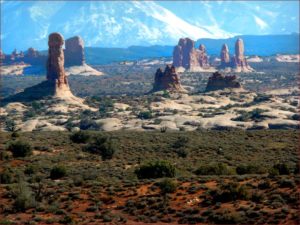 My early morning rise in the Little America Hotel in Salt Lake City is at 5.20 and, after a shower, I head outdoors for a quick walk before breakfast.  Returning into the main lobby of the hotel, I make my way to the Coffee Shop restaurant which promptly opens at 6 a.m.  This is definitely one of the best hotels we have stayed in on the Rocky Mountain Frontiers tour so far and the breakfast I order – which consists of Irish oatmeal (to remind me of home), ham, poached eggs, potatoes and sourdough toast – more than lives up to this standard.  We depart from Salt Lake City at 8 and have a break/stop in the city of Price in Carbon County, Utah at 10.  Provisions for lunchtime must be acquired as per usual and my selection for the day comprises of a turkey salad roll, a packet of chips and a bottle of Gatorade Rain Berry.  For good measure – and as is customary with me now – I also avail of a Starbucks coffee.  Just how predictable am I becoming I ask myself.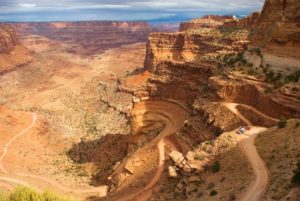 We arrive at our principal destination for the day which is Canyonlands National Park in southeastern Utah at 1 p.m. approximately.  At the visitor centre, there is an opportunity for consumption and I devour my turkey salad roll and some of the chips; alas, however, my bottle of Gatorade Rain Berry defies opening and I put it back in my bag hoping to come up with some ingenious plan for opening it later on – perhaps dropping it from one of the multitude of peaks here will do the trick.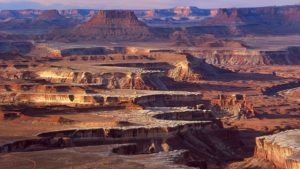 Moving on from this spot at 1.45, we arrive at Grand View Point at 2.15 for a much-deserved photo stop.  Formally established as a national park in September 1964 by then US president Lyndon B. Johnson, Canyonlands compares more than favourably with the Grand Canyon in Arizona which I visited on last year's Western Discovery tour.  Described by author Edward Abbey as 'the most weird, wonderful, magical place on earth' it's little wonder that the number of tourists visiting the park is on the rise on an annual basis.  It's of little surprise also that many feature films have shot on location here including Thelma and Louise, 127 Hours and 2013's The Lone Ranger.  As regards the aforementioned 127 hours – which is based on the book Between a Rock and a Hard Place – Blue John Canyon was the slot canyon in the park in which Aron Ralston was forced to amputate his own right forearm following an accident in 2003.  A cautionary tale indeed which warns of the hazards that can exist in even the most spectacular of places.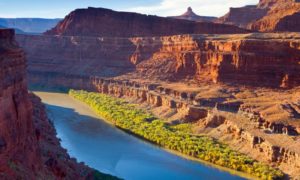 The Green River Overlook is our next stop at 3.05 and, after many pictures and jaw-dropping vistas, we move on to our hotel in the city of Moab – the Moab Valley Inn and Conference Centre – where we arrive at 4.25.  In the context of our tour, this is something of a watershed moment as it is the only hotel we will be staying in for two consecutive nights.  It's also roughly the midpoint of the Rocky Mountain Frontiers tour generally and I remind myself not to be thinking in such terms.  Lots more to come and tomorrow will bring a visit to the nearby Arches National Park.  My room for this extended stay (by our current standards of duration) is number 200 and, following a quick shower to freshen up, I walk down the main street of Moab to peruse the shops and restaurants.  One of my chief purchases of the evening is a book on film-making in southwest USA and I also put my eye on a book about the making of Thelma and Louise.  Given my predilection for t-shirt purchasing at this stage, the original red dirt shirts shop also catches my attention and I duly produce my debit card here; a card which the shop assistant hands me informs that the red dirt shirt is believed to bring good luck to its wearer – here's more than hoping.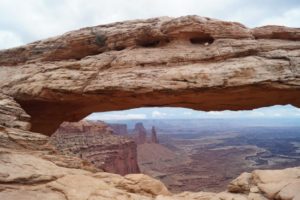 Myself and two other guys from the tour meet up a little later and agree on a venue for food.  The Moab Brewery proves to be an excellent choice for the evening and has a fine selection of beers, ales and IPAs.  We are also afforded one of the most exuberant waiters I have ever come across by the name of Joey who is more than over-the-top with respect to his presentation and order-taking.  Privately, I chuckle to myself as I recall the previously-mentioned Cody who had served me in West Yellowstone with far less vim and vigor to say the least.  If you combined the overblown enthusiasm of Joey with that of the entirely nonchalant style of Cody, would you come up with the perfect waiter I wonder to myself as I munch on a delicious Philly Cheese Steak Sandwich.  Somehow I think it's unlikely, but one can always live in hope.  Our first evening in Moab ends with one more beer in the curiously-named Eddie McStiff's which is also located on Moab's main street.  A brewhouse which serves food and craft beers, it feels like an appropriate last call for our day and it also marks the only rainfall we see during the entire trip (which lasts a mere five minutes or so).  After this deluge, we return to the Moab Valley Inn and Conference Centre at 10.45.  The dynamic Joey had earlier suggested that we venture forth to see Arches National Park by night, but the three of us can wait for that particular adventure tomorrow.  But thanks for the tip Joey and for the not considerable gusto of your service.