The Blogger's Word – Rocky Mountain Frontiers and Western Terrains – Part 9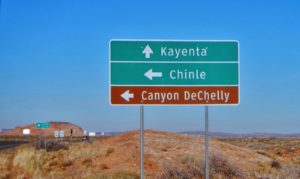 My start this morning at the Moab Valley Inn is at 5.10 and it's the familiar ritual of shower and readying my bags and things for the imminent departure.  We've spent two consecutive nights here in the eastern Utah city and it's a definite return to the road for us as our hotels from now until the end of the Rocky Mountain Frontiers tour will comprise of single nights.  The continental breakfast this morning includes a selection of sausages – something I may well have missed yesterday morning – so I happily munch down a few as I chat to a German friend.  We depart Moab promptly at 8 a.m. and set out for the census-designated place that is Chinle in Apache County, Arizona.  The principal focus of today's tour is Canyon de Chelly National Monument which is located in north-eastern Arizona, within the boundaries of the Navajo Nation, and lying in the Four Corners region (where the boundaries of Colorado, Utah, Arizona and New Mexico meet).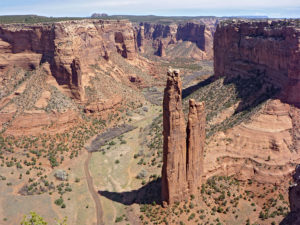 The beginning of any day on this tour would not be quite complete without a photo stop and this arrives at 8.30 as we view Wilson's Arch from the roadside just off U.S. Route 191.  We take a coffee break and toilet stop at 9.30 and then continue on our way.  The town of Bluff in San Juan County Utah is traversed at 10.30 approximately.  Passing onto Navajo lands after 11 a.m., we arrive in Chinle at 12.10.  On our way here, Adrian has asked those of us who are opting for the Canyon de Chelly Jeep Tour to sign a waiver form in the event of an accident or a physical mishap.  It's the first time that I've ever been asked to do something like this, but I figure that it's unlikely something bad might happen.  At least I sincerely hope not for my sake.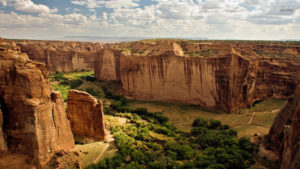 There's time for some lunch before the jeeps depart, but I decide to skip it on this occasion in case of a dodgy stomach during the three-hour excursion.  Departing at 1 p.m. we set off on this rugged adventure of a canyon which is rightly famed for its steep walls and pueblo ruins.  There are distinctive architectural features aplenty, as well as picturesque vistas of rocky outcroppings.  For the record, the National Monument spans an area of 83,840 acres and is one of the most-visited in the whole of the United States.  None of the land is federally-owned and has long served as a home for Navajo people.  Approximately 40 Navajo families live in this area which is managed by the Navajo Tribal Trust of the Navajo Nation.  The park's most distinctive geological feature is undoubtedly Spider Rock – a sandstone spire of some 750 feet in height.  Some of the noteworthy ruins which we are shown by our guide include the White House Ruin and the Antelope House Ruin.  There are also numerous hand-paintings on the walls of the canyon which leave a lasting impression.  The events surrounding the Battle of Canyon de Chelly are also relayed to us; this occurred in 1864 as part of the Navajo Wars and represented the final major military engagement between the Navajo and their American adversaries.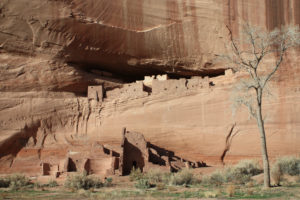 The jeep tour thankfully passes off without any incidents or injuries and we are transported to the Holiday Inn Canyon de Chelly at 4.30.  Like everyone else who has participated in this optional excursion, I feel myself badly in need of a shower when I get to my room.  In the hotel gift shop a short time later I purchase a t-shirt to commemorate this particular leg of the overall trip.  Desperately in need of some food at this stage, I decide to chance a walk to the nearby Denny's which – according to Adrian – is just down the road from the Holiday Inn.  Half an hour later as I reach Denny's I wonder what exactly Adrian's definition of just down the road means.  In any case, I decide to return to the relative safety of the hotel restaurant where I join Stephen for a much-needed bit to eat.  The steak with pesto potato and salad which I order is consumed with appropriate relish and attendant conviction.  There's no alcohol on sale here as we're on the Navajo reservation (which is effectively dry with respect to such libations), so an ice-cold coke has to suffice for the moment.  Returning early to my room, I watch some TV in bed for a while before eventually turning in at 10.30.  Definitely getting old I think to myself.  Perhaps it's a simple case of me or the mileage on this trip or both.  In any event another memorable day and tomorrow will bring us to the state of New Mexico – the Land of Enchantment as it's popularly known.