The Blogger's Word: Warren Beatty As Howard Hughes Is An Intriguing Prospect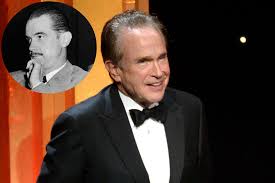 Later this year – November 2016 to be precise – Warren Beatty's new film Rules Don't Apply will be released by 20th Century Fox.  Described as a romantic comedy-drama, the film has Beatty as Howard Hughes, the famous business tycoon, aviator and later recluse, who has previously been played onscreen by, amongst others, Leonardo DiCaprio and Jason Robards.  Beatty apparently encountered Hughes in a hotel lobby during the heyday of his own career in the 1970s and so began an obsession on the star-director's part to make a film about the entrepreneur.  He has assembled an impressive supporting cast for the piece which includes his own wife Annette Bening, rising stars Alden Ehrenreich and Lily Collins, and veterans such as Paul Sorvino, Martin Sheen, Ed Harris, Dabney Coleman and Alec Baldwin.  Two-time Oscar winner Bo Goldman (One Flew Over the Cuckoo's Nest and Melvin and Howard) has collaborated with the director on the story.  The film is currently slated for a November 23rd release.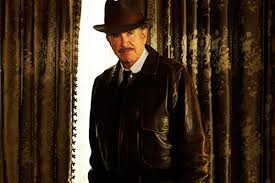 The sheer prospect of seeing Warren Beatty on screen once again is a tantalising one.  The actor has not made a film since 2001's Town and Country which was a box office flop and received a drubbing from the critics.  In terms of duties behind the camera, Beatty has not directed a film since his 1998 effort Bulworth, in which he played a disillusioned incumbent senator who arranges for his own assassination and then changes his mind as he begins speaking it (and also rapping I might add).  Truth be told, he has only made a handful of films in the last few decades.  The 1990s saw both good, middling and bad in the shape of Bugsy and Bulworth, Dick Tracy, and the fairly lamentable Love Affair.  The 1980s had a similar mix in terms of the disastrous Ishtar, directed by Elaine May, and the truly sublime Reds, for which Beatty won the Best Director Oscar in 1981.  It's the one real pity about his career I would suggest.  He was never prolific in the mould of Clint Eastwood, or Jack Nicholson for that matter.  There have been large gaps since 1981's Reds which, unfortunately, the ageing star will never have a chance to revisit now.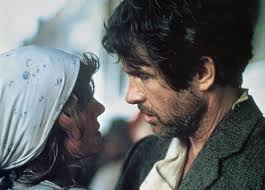 Warren Beatty's name of course is synonymous for many with his philandering days of yesteryear.  In many ways he bears comparison with Howard Hughes in this respect.  An infamous womaniser, Beatty is reckoned by biographer Peter Biskind (Easy Riders, Raging Bulls) to have slept with some  13,000 women before eventually settling down to married bliss with Bening in 1992.  Notable ladies he dated over the years included Diane Keaton, Raquel Welch, Madonna, Leslie Caron, Natalie Wood, Joan Collins (to whom he was briefly engaged) and, perhaps the great love-of-his-life, Julie Christie (with whom he made McCabe and Mrs. Miller, Shampoo and Heaven Can Wait).  In November 2015 singer-songwriter Carly Simon finally acknowledged after years of speculation that she had penned part of her 1972 hit song 'You're So Vain' in reference to the actor she'd once dated.  It's an aspect of his life which has too long overshadowed the highs of his career, which for me would begin with the 1967 seminal Bonnie and Clyde.
Peter Biskind's Easy Riders, Raging Bulls (a book every movie-lover should read at least once) quite rightly starts with Bonnie and Clyde and points out as to how the Arthur Penn-directed film, which was produced by Beatty, was an important forerunner in the Hollywood New Wave which resulted in a rich vein of American cinema in the late 1960s and through the 1970s.  Onscreen Beatty made for an irresistible Clyde Barrow who is charming, funny, but also consciously aware of his sexual shortcomings ('I told you I wasn't no lover boy'); off-screen he was a dedicated producer at the tender age of 29 who was already taking a healthy (or for some directors, most especially Robert Altman on the set of McCabe and Mrs. Miller, a rather unhealthy) interest in directing actors and scenarios.  As producer of Bonnie and Clyde, Beatty powered the production forward by persuading Penn to take the helm and by casting up-and-coming actors such as Gene Hackman and Faye Dunaway in career-enhancing roles.  In spite of some early derisory reviews at the time, Bonnie and Clyde quite rightly stands as a classic film and a pivotal moment in the inception of New Hollywood.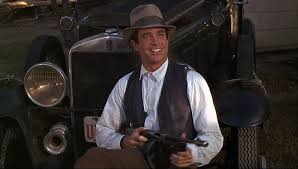 Beatty has the unique distinction of being the only individual ever to have twice been nominated for four Academy Awards for the same film.  He first achieved this with the 1978 fantasy-comedy Heaven Can Wait, a nicely-observed adaptation of the Harry Segall play of the same name (and originally filmed as 1941's Here Comes Mr. Jordan); and then again with the 1981 epic-historical Reds.  Reds was a long-held ambition of Beatty's ever since he'd come across the story of John Reed, an American journalist who essayed the Russian Revolution in his 1919 book Ten Days That Shook the World.  Beatty pursued the project with typical flair and gusto and again, as per Bonnie and Clyde, demonstrated how he was one of the sharpest producers in Hollywood making a film about such a subject matter even as the Cold War raged about him.  The result is a film that is up there amongst the very best efforts of epic directors such as David Lean and William Wyler.
But let's not forget too that, as a director, Beatty has a reputation of being an absolute perfectionist – much to the chagrin of some of his fellow actors.  I mentioned previously the case of Robert Altman on the set of McCabe and Mrs. Miller.  With Reds Beatty demanded take after take from his actors, often to their consternation and mounting frustration.  In Star: The Life and Wild Times of Warren Beatty, Peter Biskind suggests that such a practice seems to arise from the actor-director's desire to have complete control over his set; others believe that the design is to break an actor down in order to find some inner truth.  Either way Diane Keaton and Paul Sorvino were two notables who complained about this on the set of Reds.  To complicate matters, Beatty was in a relationship with Keaton at the time of filming.  The device of multiple takes must have worked in some small way though – Reds secured acting nominations for its leads, Beatty and Keaton and a support nod for long-time pal Jack Nicholson as American playwright Eugene O'Neill.  Veteran actress Maureen Stapleton won the Best Supporting Actress Oscar for her part as political activist Emma Goldman.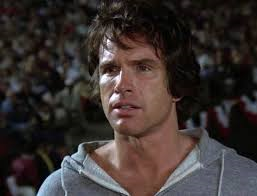 In terms of other key roles it's worth considering films such as 1974's The Parallax View; 1975's Shampoo, of course, in which he played a Lothario hairdresser; 1990's Dick Tracy (which he also directed); and the aforementioned Bulworth towards the end of the 1990s.  Barry Levinson's Bugsy (1991) elicited Beatty's best screen performance in the estimation of biographer Biskind and the film did indeed provide him with a very meaty role.  From a personal point of view the making of Bugsy also introduced him to co-star Bening whom he subsequently wed in 1992.  The couple have four children.  And let's not forget that his older sister is Oscar-winning actress Shirley Maclaine.  The family obviously had some good acting genes in spite of the educational backgrounds of their parents.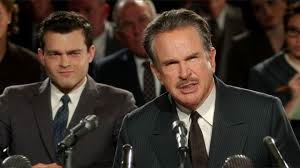 The upcoming Rules Don't Apply could well be Warren Beatty's final film.  Let's hope not, but consider that the acting hiatus which preceded it (from 2001's Town and Country) lasted some fifteen years.  The general consensus about that latter film was that it seemed a shame if the disastrous production was to be the actor's swan song.  For many years it appeared that way.  Thankfully though it isn't to be and Beatty has finally got to make his long-in-gestation Howard Hughes film.  Looking at the trailer online, it would appear that Beatty is playing it for some laughs.  'Billionaire goddamn it, not millionaire,' he snarls wonderfully as his older Howard Hughes views some film reel, 'and what the hell happened to the close-up of me in the cockpit?'  In another moment he reacts badly to the presence of a small child saying, 'Get that person out of here!'  The real-life Hughes, as we know, was an obsessive-compulsive who had an innate fear of germs so I'm guessing it's a playful reference to this.  Elsewhere Matthew Broderick's character warns Alden Ehrenreich that he should not liaise in a romantic way with any of his co-workers in Hughes's employ.  The tycoon has strict rules laid down it seems which decree that his employees should not have any amorous dalliances.  Part of the story is obviously how these two young people (Ehrenreich and Lily Collins) will overcome such a strange proviso.
The trailer for Rules Don't Apply is somehow redolent of a Woody Allen film and it also brings to mind the Coen Brothers earlier offering this year Hail, Caesar! (in which, incidentally, Ehrenreich also featured) which is set at roughly the same time period.  In Rules Collins's character Marla Mabrey is an aspiring young actress who has come out to California with her mom (played by Annette Bening) to seek a career in Tinseltown.  Howard Hughes, having been a filmmaker himself in the 1920s and 30s, is presumably a benefactor of sorts.  The trailer for Rules Don't Apply certainly suggests a film which is a mix between comedy and romance.  The latter half of the trailer even suggests that Hughes himself becomes involved with Collins's character, surely several decades his junior.  Given Beatty's past as a serial womaniser in that respect, it may well offer up a nice irony.  In any event the trailer appears promising at first glance and I, for one, hope that Warren delivers at least one last time.  A minor smash, even a sleeper hit, would be a nice way for the star-director to go out if this is to be his last film.  And playing Howard Hughes in the process – that would be no bad thing at all.  Not quite Clyde Barrow or John Reed perhaps.  But a fitting bow nonetheless.  A graceful exit which any great actor and filmmaker deserves.