The Sundance Kid at 80 – Happy Birthday Robert Redford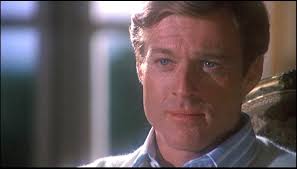 Charles Robert Redford Jr. – better known to many of us perhaps as The Sundance Kid – turns 80 on the 18th August, 2016.  The star of many acclaimed films since the late 1960s to the present time, Robert Redford has turned his considerable skills and powers to other areas of cinema as well.  He's directed nine feature films in total, which include the Oscar-winning Ordinary People (his own debut behind the camera), A River Runs Through It, Quiz Show and The Horse Whisperer.  Founder of the Sundance Film Festival, the largest independent film festival in the United States, which takes place in Utah in January of every year, Redford has more than earned Time Magazine's accolade as being 'The Godfather of Indie Film.'  Many notable filmmakers of the present day got their break at this prestigious event including Quentin Tarantino, Paul Thomas Anderson, Steven Soderbergh and Darren Aronofsky.  Films you might recognise which debuted at Sundance – and, subsequently, received wider distributions as a result – include Reservoir Dogs, Donnie Darko, In the Bedroom, Little Miss Sunshine, Moon, and, more recently, Whiplash.
But let's take a step back from all of this and consider Redford the actor, director, and star.  He began his career in TV in the early 1960s before moving on to feature film later that same decade.  Having acted in Neil Simon's Barefoot in the Park on Broadway in the mid-1960s, the actor solidified his emerging reputation onscreen in the film version of the stage play in 1967.  Notable roles prior to this had included 1965's Inside Daisy Clover (for which he won a Golden Globe for New Star of the Year) and Arthur Penn's 1966 film The Chase alongside Marlon Brando and Jane Fonda.  Then came Butch Cassidy and the Sundance Kid in 1969 and all was transformed for the rising star.  The 1970s was an active decade in terms of starring roles and further progress up the ladder.  Films such as 1972's Jeremiah Johnson and The Candidate were thematic poles apart, but displayed the actor's considerable range.  The Oscar-winning The Sting reunited him with Paul Newman.  The Way We Were and The Great Gatsby left no doubt as to his charisma in the romantic lead.  Three Days of the Condor and All the President's Men in the middle of the 70s were perfectly-timed political thrillers which seemed emblematic of the uneasy state of post-Watergate America.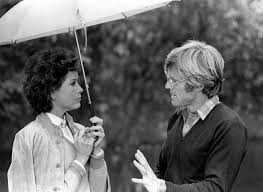 The 1980s were not as happy a hunting ground in terms of acting roles as he became more interested in matters on the other side of the camera.  He fared well in dramas such as Brubaker and the near-mythical baseball film The Natural, but less so in Sydney Pollack's slightly overblown Out of Africa and Ivan Reitman's slight comedy Legal Eagles.  1990's Havana (another collaboration with Pollack, one of six in all) was something of a misstep too, but the actor proved he could mix it well with the best in the 1992 all-star cast that was Sneakers.  The less said about Adrian Lyne's Indecent Proposal the better I think, but the director half of Redford was busy throughout this decade as well delivering A River Runs Through It, Quiz Show and The Horse Whisperer.  More recently Redford the actor has come back into a certain degree of prominence.  He featured well as the baddie in the second instalment of Captain America – The Winter Soldier (2014) – and is on our screens this present summer again in Disney's re-working of its 1977 film Pete's Dragon.  And let's not forget 2013's All Is Lost in which he was the sole actor playing a man seeking to survive damage to his craft and an impending storm.  It was a performance of some depth, bereft pretty much as it was of any dialogue.  It also displayed Redford's considerable physical prowess for a man in his then late-70s.  Long may this continue.  Personally I hope he gets to make many more films; possibly even direct one or two of these himself.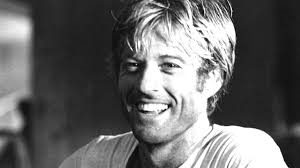 I've selected 12 films below which I hope offers something of a taste, of a guide perhaps, to Robert Redford's sizeable and illustrious career.  If you are not too familiar with the actor-director's filmography then these, I would suggest, are a good place to start.  Ten of the films I've chosen are ones Redford has acted in; two are films he has helmed without appearing onscreen himself.  I'm only too aware that in compiling a list of this nature I've left out some other worthy candidates as well, such as the aforementioned Barefoot in the Park, Jeremiah Johnson, A River Runs Through It and The Horse Whisperer.  But see what you think and, by all means, send me any comments you have on these or the great man himself.  And once again Happy 80th Bob.  Thanks for all the great films and memorable roles thus far.
As Actor: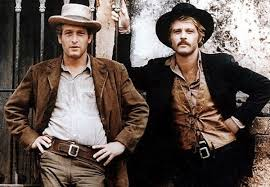 Butch Cassidy and the Sundance Kid (George Roy Hill 1969)
The most enduring buddy movie of them all?  You'll get few arguments from me in that respect and the pairing of Newman and Redford certainly made for one of cinema's most irresistible screen duos.  William Goldman's Oscar-winning screenplay concerns his heroes on the run for much of its first half and then sees them attempting to overcome a language barrier and go straight later on in Bolivia.  Not everyone was convinced with this framework and some felt that a film about two such notorious outlaws on the run would not make for an engaging story.  But it does and it works remarkably well throughout right down, of course, to that famous frozen frame at the end.  Much of this is down to its charismatic leads, but kudos also to Hill's fine direction and the script of the aforementioned Goldman which nicely balances well-timed humour with a prevailing sense of nostalgia.  Highlights include the famous cliff jump scene and the robbery of the Union Pacific train (twice).  Redford picked up a Best Actor Award at the BAFTA's for his onscreen efforts in this and that same year's Downhill Racer and Tell Them Willie Boy Is Here.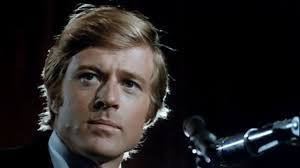 The Candidate (Michael Ritchie 1972)
This fine satirical comedy-drama has Redford as the son of a former Democratic governor who is plucked from relative obscurity to contest what appears to be an unwinnable race against the incumbent Republican.  Bill McKay, as played by Redford, appears to fit the bill perfectly.  He's charming, idealistic and has the dash of a Jack Kennedy about him.  No one takes his candidacy all that serious at first and he's allowed to preach the sort of message he feels is important as opposed to any generic line or party-based theme.  But this changes of course and gradually we see this somewhat naà¯ve approach being eroded as he begins to gain in the polls and the stakes become ever so higher.  Writer Jeremy Larner earned himself a Best Original Screenplay Oscar for his work on the film, but word has it that he was assisted by director Ritchie and star Redford.  The great Melvyn Douglas plays Redford's onscreen father John J. McKay.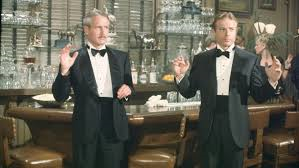 The Sting (George Roy Hill 1973)
The winning team of Hill, Newman and Redford came together again for this classic caper film set in Depression-era America.  Redford plays a professional grafter named Johnny Hooker who swears vengeance after his partner-in-crime Luther Coleman is murdered following a successful con.  Hooker travels to Chicago where he seeks out the help of one Henry Gondorff (Newman) and eventually persuades him to play 'the big con' against the crime boss Doyle Lonnegan (Robert Shaw) whom Hooker holds responsible for Luther's death.  Winner of seven Academy Awards at that year's Oscar ceremony, The Sting holds up well to repeated viewing and one can but marvel at its luscious period feel and wonderful set and art direction.  Plus its littered with some great performances as well including Redford (an Oscar nominee for Best Actor), Newman (as always) and a superbly snarly Robert Shaw as the 'mark' in the con.  "The Entertainer" by Scott Joplin was put to great use and this film played a large part in the revival of the African-American composer's music generally.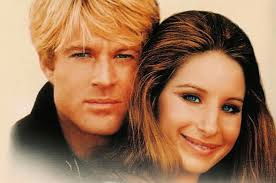 The Way We Were (Sydney Pollack 1973)
Love it or loathe it this was the film which firmly cemented Redford's status as a matinee idol.  He plays Hubbell Gardiner in this one, a character who is bereft of any political affiliations or aspiring idealism of any real type, who meets and falls for the much more socially conscientious Katie Morosky, played by Barbra Streisland.  The film documents their on-off relationship over the years as he pursues a career as a screenwriter in Hollywood and she attempts to tolerate his middle-of-the-road attitude.  This was not a vintage role for Redford I would suggest, but the film's subsequent success (the fifth highest grossing film of 1973) continued his career's upward trajectory.  Composer Marvin Hamlisch won one of his three Oscars in the same year – two for this one for Best Original Dramatic Score and Best Song; the third one came by way of his work adapting the work of Scott Joplin for The Sting.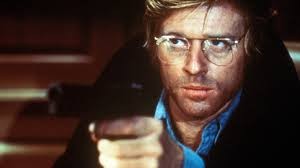 Three Days of the Condor (Sydney Pollack 1975)
Post-Watergate America was indeed a place rife with paranoia and conspiracy and this collaboration between director Pollack and star Redford fits well within the genre.  Redford plays Joseph Turner, a CIA analyst who works in a New York City office, of no apparent great distinction, and whose task is to trawl through publications of all sorts looking for hidden meanings and embedded codes.  The office is attacked and all occupants brutally murdered with the exception of Turner who is fortuitously out at that moment getting lunch orders.  He calls the hit in, but soon realises that he has no friends on any side and must fend for himself.  To this end he holds an unsuspecting Faye Dunaway hostage and they become lovers.  Pollack's film is a superbly-timed piece which benefits from Redford's fine central performance and able support from Dunaway.  The supporting cast includes the great Max Von Sydow and Cliff Robertson.  The final frozen image of Redford walking away in isolation, framed against the backdrop of a typical urban milieu, suggests a thousand words and leaves open to the viewer the interpretation of his character's eventual fate.  One of the finest of the 1970s spate of conspiracy dramas.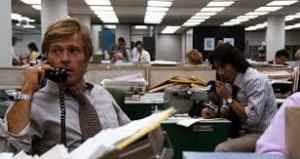 All The President's Men (Alan J. Pakula 1976)
I mentioned Watergate in connection with Condor above and here indeed is the film which continues to stand as the very apotheosis of 1970s political conspiracy thrillers.  Redford himself took an active part in the genesis of this one when he purchased the rights to Bob Woodward and Carl Bernstein's 1974 book of the same title upon its publication.  He hired William Goldman to adapt the book into a screenplay and Alan J. Pakula (who'd directed the earlier Klute and The Parallax View) was brought on board to take charge behind the camera.  There are disputes as to levels of contribution on the script, including Redford's and Pakula's involvement, but a decisive decision was made to end the film at a point where the reporters appear to have reached an impasse in their investigation (as Richard Nixon is sworn in for a second term on a TV screen in the backdrop).  The Oscar-winning script also introduced the phrase 'follow the money' which was not used in the original book.  Redford and Hoffman spent months at the offices of the Washington Post researching their parts as Woodward and Bernstein respectively, but the filmmakers were subsequently denied permission to film there, and so the offices were recreated at Hollywood's Burbank Studios.  In subsequent billing, Redford's name appeared over Hoffman's in posters and trailers; Hoffman's name appears over Redford's in the credits of the film itself.  The result was a political thriller of the highest order which sustains its momentum and the viewer's interest in spite of the fact that we know full well what the outcome was.  Jason Robards won a Best Supporting Actor Oscar for his committed portrayal of Post editor Ben Bradlee.  A shadowy Hal Holbrook plays 'Deep Throat', Woodward's mysterious informant who was subsequently revealed in 2005 to be one W. Mark Felt, then 2nd Associate Director of the FBI.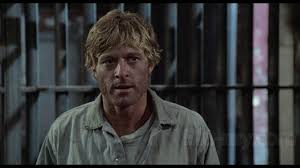 Brubaker (Stuart Rosenberg 1980)
Another strong socially conscientious film in which Redford portrays Henry Brubaker, an incoming prison warden at a state prison in Arkansas.  Initially he joins the system as a seeming convict himself, but then reveals himself to be the man in charge much to the consternation of inmates and officials alike.  Directed by Stuart Rosenberg (who also, incidentally, helmed the famous Paul Newman prison drama Cool Hand Luke) this is a fine story about one man's quest to change the system from inside and how the bureaucracy and intolerance of this same system resists such change to the nth degree.  There's a fine cast in support of the star here which includes Yaphet Kotto, Murray Hamilton, Wilford Brimley and a young Morgan Freeman in an early role.  The script by W.D. Richter received an Academy Award nomination for Best Original Screenplay and was partially based on the experiences of a real-life warden named Tom Murton who published a deeply felt account of prison corruption then inherent in Arkansas in the 1960s.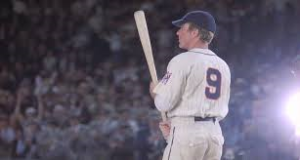 The Natural (Barry Levinson 1984)
It's impossible not to like this baseball fable in which Redford plays Roy Hobbs a gifted player who gets a second chance after a bizarre shooting incident had seemed to rob him of his considerable opportunity.  Directed by Barry Levinson, of Good Morning Vietnam and Rain Man fame, The Natural employs a deliberately nostalgic attitude and feel whilst also highlighting some of the more unsavoury commercial and media elements which form part of the backdrop of one of the great American games.  An exemplary cast includes Robert Duvall, Glenn Close, Kim Basinger and Barbara Hershey.  For his own role as the ageing right-fielder Redford apparently modelled his swing on that of legendary player Ted Williams.  The penultimate scene in which he runs the bases under showering lights to the strains of Randy Newman's excellent score should soften even the most hardened of hearts.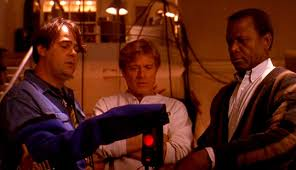 Sneakers (Phil Alden Robinson 1992)
A nicely-timed and well-executed caper movie on director Phil Alden Robinson's (Field of Dreams) part, this one assembled an all-star cast around its leading man which included Dan Aykroyd, Sidney Poitier, Ben Kingsley and the late River Phoenix.  Redford plays Martin Brice/Bishop a hacker with a past who runs a team of security specialists based in the San Francisco Bay Area.  His seemingly idyllic existence – out of sight and out of mind as he now prefers it – is disrupted when he is approached by members of the National Security Agency who are well versed with his illegal past.  Martin is forced to take on the assignment they wish him to complete which eventually serves to bring him into contact with his former partner-in-crime played by Ben Kingsley.  Sneakers was far from the taut political thriller Redford had been involved with so prominently in the 1970s, but it was a timely choice at this point in his acting career, moving along with great gusto and some nice comic flourishes.  It proved to be a telling success at the box office as well.  Watch out for Irish-Canadian actor Donal Logue (of TV series Gotham fame) making a brief appearance as a renowned mathematician.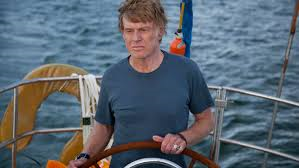 All Is Lost (J.C. Chandor 2013)
This latter-day survival story demonstrated how effectively Redford still holds the screen and what a truly expressive actor he is.  He plays an unnamed character who awakens on his boat somewhere in the Indian Ocean to discover that it has collided with an adrift shipping container.  The next 100 minutes of the film's running time essays his attempts to survive against the odds as he has to abandon ship and put himself at the mercy of the elements and his own fate.  Redford was in his late-70s when he made this film, but his remarkable physical prowess is just one aspect of an unflinching and consummate performance.  He's the sole actor in the film, his dialogue is sparse to non-existent, and this is what makes his portrayal of a man intent on surviving all the more remarkable.  The performance deservedly earned him a Best Actor Award from the New York Film Critics Circle and certainly ranks as one of the best of his career.  The ending of the film is suitably ambiguous and left to the interpretation of the viewer.  Does Bob's character make it or not?  Personally speaking, I'd like to think that he does.
As Director: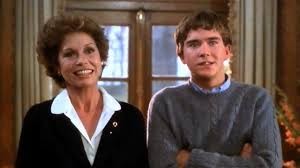 Ordinary People (Robert Redford 1980)
Based on the 1976 novel of the same name by Judith Guest, Redford's directorial debut was a highly ambitious project for a first-timer behind the camera and was quite deservedly lauded upon its cinematic release in the fall of 1980.  As per the source material, it tells the story of an adolescent forced to deal with a deep-seated crisis in his family.  Conrad Jarrett (as portrayed by Best Supporting Actor Oscar winner Timothy Hutton) is the survivor of a boating accident which claimed the life of his older brother Buck.  Guilt-ridden because he did not perish as well, he's made an attempt to end his own life and has spent time subsequently in a psychiatric hospital.  Upon his return home the family are trying to settle back into a normal pattern of life in the wake of their severe loss.  Conrad's father (Donald Sutherland) does his best in this regard to make a brave show of the humdrum of domestic life and to connect with his surviving son; Connie's mother (Mary Tyler Moore) on the other hand is emotionally distant and even vaguely resentful of his very existence.  This comes to a head gradually as she and her younger son grow ever so much more apart.  Connie, meantime, begins to attend sessions with the benevolent but astute Dr. Berger (Judd Hirsch) who helps him unravel the reason why he survived and his brother was lost.  Ordinary People is a domestic drama of the highest order with some terrific performances at its heart and Redford's direction employs an appropriate tone and pace throughout.  Nominated for six Academy Awards, it captured four of these including one for the aforementioned Hutton, Best Picture and Best Adapted Screenplay.  Redford himself triumphed in the Best Director category beating the likes of Martin Scorsese, David Lynch and Roman Polanski in the process.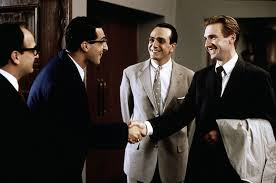 Quiz Show (Robert Redford 1994)
Redford both directed and co-produced this one which is based on Richard N. Goodwin's memoir Remembering America: A Voice From The Sixties.  The film starring Rob Morrow as Goodwin and Ralph Fiennes as Charles Van Doren chronicles the quiz show scandal of the 1950s which involved Van Doren, a popular contestant, being fed the answers in advance of each show.  When former disgruntled contestant Herb Stempel (John Turturro) begins threatening legal action and makes certain allegations of rigging, Goodwin, a young Congressional lawyer, finds his interest piqued and begins his own investigation.  Befriending Van Doren he gradually comes to realise that Stempel's accusations are indeed true and that Van Doren has been playing his part in the network deception.  A box office disappointment on its release, Quiz Show was deservedly lauded by critics as an astute examination of corporate power, individual subterfuge, and a general malaise which lies at the heart of the American dream.  An exemplary cast includes the above mentioned trio of Morrow, Fiennes and Turturro, as well as the Oscar-nominated Paul Scofield, David Paymer and Mira Sorvino.  Watch out also for appearances by directors Barry Levinson and Martin Scorsese.  Nominated for four Academy Awards, including nods for Best Picture, and Best Director for Redford, Quiz Show is a film worth checking out if you haven't already seen it and certainly worth revisiting if you already have.  Populated by several superb performances, and employing a wonderful period feel, it is a highly evocative piece which once again demonstrated Redford's considerable skills behind the camera.