Too-Ra-Loo-Ra-Loo-Ral – 12 Films For St. Patrick's Day
Another St. Patrick's Day is almost upon us and, as usual, we'll see all of that green paraphernalia on the streets and in the shops, read about the latest ministerial trips to outer Mongolia, and hear terms such as 'diaspora' and 'going green' bandied about with much aplomb.  But would you prefer to escape all of that for a few hours on the day itself?  Have you, like myself, seen one too many St. Patrick's Day parades in your time?   Well, how about a movie then?  Something in keeping perhaps with our national day, but nothing too garish or jarring.  Well, look no further than below.  Here's a selection of 12 films that I've compiled that may get you through your St. Patrick's Day Blues (Greens, anyone?).  I've attempted here to put together a list of some recognisable ones, and others that are, perhaps, less so.  There are Irish-produced films amongst these, and also American and British productions.  I've attempted to go for a fairly broad range in this respect and, of course, am aware that I've left out some notable films such as My Left Foot, The Field, The Crying Game and Michael Collins in the process.  But see what you think of my selection and drop me a line if you feel I've made some glaring omissions or included some entries below that do not merit inclusion on this list.  Enjoy and happy St. Paddy's Day.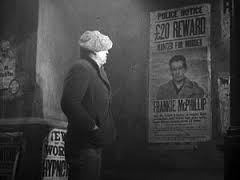 The Informer (John Ford 1935)
Based on the novel of the same name by Liam O'Flaherty, this film won John Ford the first of his four Best Director Oscars, as well as three others – Best Score for Max Steiner, Best Adapted Screenplay for Dudley Nichols, and Best Actor for Victor McLaglen.  Set in the 1920s during the War of Independence, The Informer concerns one Gypo Nolan (McLaglen) a member of the IRA who has been thrown out of the movement for his failure to execute a Black and Tan.  He meets his friend and comrade Frankie McPhillip, who is wanted, and has a reward on his head.  Needing money to get passage to America for himself and his lady (a streetwalker named Katie), Gypo turns informer and gives his friend up to the British.  Frankie is subsequently killed and Gypo is suspected of betraying him.  Ford's 1935 film is highly atmospheric and has more than a few traces of German expressionism in its style and photography.  It's a tad heavy at times in its references to the story of Christ – particularly the rather heavy-handed final scene – but remains one of the director's very best nonetheless.  Victor McLaglen – a Ford regular – is superb as the hapless Gypo.  Ford's older brother, Francis, co-stars.  Donald Meek is also part of the cast.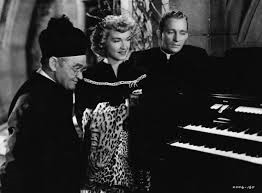 Going My Way (Leo McCarey 1944)
Hence my reference to Too-Ra-Loo-Ra-Loo-Ral above.  This one was also a big Oscar winner in its day winning 7 in total, including a Best Supporting Actor gong for Barry Fitzgerald (who was also nominated for Best Actor for the same role that year; the Academy rules were subsequently changed to prevent such a recurrence).  Bing Crosby plays Father O'Malley an incoming priest to a parish in New York City whose rather unconventional style jars with the older, and more traditional, Father Fitzgibbon (Fitzgerald).  Bing of course gets to perform a number of songs in this one including the Oscar-winning Swinging on a Star and Three Blind Mice.  I dare anyone not to feel a lump in their throat at the final scene when Father Fitzgibbon's mother arrives from Ireland and Bing croons Too-Ra-Loo-Ra-Loo-Ral to them both.  Now that really is an Irish lullaby.  The highest grossing picture of 1944.  A sequel followed very soon afterwards in the shape of The Bells of St. Mary's in which Crosby reprised his role and Ingrid Bergman co-starred.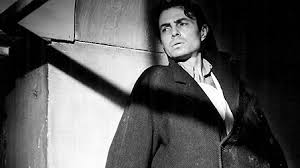 Odd Man Out (Carol Reed 1947)
Carol Reed – who would subsequently direct The Third Man – made this 1947 noir piece set in an unnamed city in Northern Ireland.  James Mason plays Johnny McQueen the leader of an IRA-type group who has been in hiding since his escape from prison.  In order to obtain funds for his organisation, he has to rob a mill and, of course, it all goes horribly wrong with the murder of a cashier and Johnny being wounded himself.  The rest of the film concerns his attempts to evade pursuers as he struggles to stay alive in an inhospitable city of murky streets and shady characters.  If you've seen The Third Man you'll know how well Reed handles atmosphere and visuals.  Odd Man Out excels in these two departments, as well as featuring one of James Mason's best screen performances.  Watch out also for a number of prominent Irish actors, many of whom were at that time plying their trade in the Abbey Theatre – Cyril Cusack, Robert Beatty, Dan O'Herlihy and Noel Purcell.  Director Roman Polanski lists this as one of his favourite film of all time.  High praise indeed.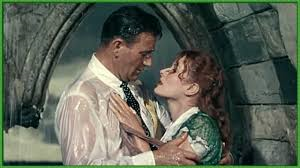 The Quiet Man (John Ford 1952)
Well what's a list like this without such a classic I ask you.  Ford's 1952 offering, based on a short story by Maurice Walsh, has been referenced many times over the years and is a staple on TV at Christmas time and, naturally, St. Patrick's Day.  John Wayne has seldom been better as the returning pugilist Sean Thornton whose hopes of a quiet life in the old country are thrown into turmoil by a feisty redhead played by the late, great Maureen O'Hara.  Victor McLaglen plays her brother Red Will Danaher and the climatic fight scene between him and Wayne is notable for both its length and comic interludes.  A terrific supporting cast includes Ward Bond, Barry Fitzgerald and Fitzgerald's younger brother Arthur Shields, who, incidentally, took part in the 1916 Rising.  This film was quite a change of pace for both Wayne and Ford who were best known for their frequent collaborations on westerns such as Stagecoach and The Searchers.  It was also a risk-venture for the studio, Republic Pictures, who put its faith in star and director (but only after they had fulfilled a condition of making another western for the studio (Rio Grande), which also co-starred O'Hara).  It was also one of the few films the studio had shot in Technicolor – Oscar-winning cinematography courtesy of Winton C. Hoch and Archie Stout.  Ford's vision of Ireland is idealised of course – no doubt about that if one just considers the lush photography and stark contrast he strikes between industrial and rural worlds – but it stands up to repeated viewing, and has high-profile admirers to this day in the form of filmmakers such as Martin Scorsese and Steven Spielberg.  The latter included the famous kiss scene in his 1982 blockbuster E.T.  And, alas, we will never know what Maureen O'Hara whispers to John Wayne at the film's conclusion.  The much-beloved actress took that secret with her to the grave.  She always said she would.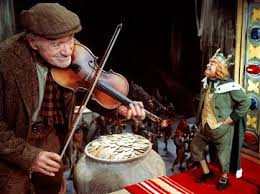 Darby O'Gill and the Little People (Robert Stevenson 1959)
Yes, I am really doing this!  And why not I say.  It's Disney, yes, but it's also great fun and the on-screen sparring between Jimmy O'Dea (King Brian of the leprechauns) and Albert Sharpe (the titular Darby) is still a joy to behold.  Based on the books of Herminie Templeton Kavanagh, this was directed by Robert Stevenson of Mary Poppins fame and features some impressive visual effects for its time.  There's debate as to whether Sean Connery and co-star Janet Munro actually performed the song "Pretty Irish Girl" as part of the film's soundtrack.  The duet was subsequently released as a single and I'm proud to say is included in my parents' record collection.  As for Connery himself, he was in his pre-Bond days here and not everyone was convinced of his future screen potential.  Writing in the New York Times, A.H. Weiler praised the cast generally, with the exception of the Scotsman himself, who he described as, 'merely tall, dark, and handsome.'  Denis O'Dea and Jack MacGowran feature amongst the Irish cast.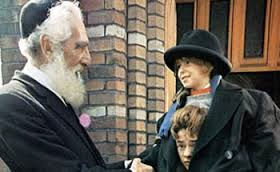 Flight of the Doves (Ralph Nelson 1971)
This one I'm including because I have fond memories watching it on TV as a kid – particularly one Paddy's Day itself when the rain was teeming down outside and, already, as a five year-old, I was suffering from a debilitating affliction known as 'parade-fatigue.'  It's the story of two kids living in Liverpool who run away from an abusive uncle and come to Ireland to seek out their grandmother in County Galway.  Her name, unsurprisingly, is Granny O'Flaherty.  Based on the novel by Irish writer Walter Macken, this features a strong Irish cast including Noel Purcell, Tom Hickey, Niall Toibin and Emmet Bergin.  Songs on the soundtrack include "You don't have to be Irish to be Irish" and "Far off Place" performed by Dana, who also appears in the film as a tinker.  Jack Wild of Oliver! fame plays one of the kids.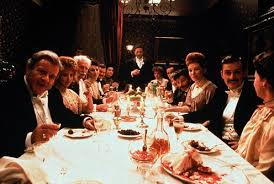 The Dead (John Huston 1987)
Ok, it's set on the Feast of the Epiphany, but this one – legendary director John Huston's final film – is a perfect realisation of the story from Joyce's famous collection Dubliners.  Huston's own son, Tony, adapted the story for the screen and his daughter Anjelica plays Gretta.  A fine cast includes Donal McCann, Marie Kean, Donal Donnelly, Colm Meaney and Dan O'Herlihy.  Frank Patterson also features as the tenor Bartell D'Arcy and it is his character's performance of "The Lass of Aughrim" towards the end of the film which serves as the catalyst for Gretta's memories of her former love Michael Furey.  Huston was seriously ill as he made this movie and he directed it largely from a wheelchair with oxygen tubes trailing from his nose.  The film was released following his death and received near universal acclaim.  Quite simply a masterpiece that is a wonderful visual accompaniment to one of our great short stories.
The Commitments (Alan Parker 1991)
This story of a group of working class Dubliners who form a soul band was Roddy Doyle's breakthrough novel in 1987.  The writer collaborated on this screen version which was directed by English helmer Alan Parker – best known for gripping, and often gruelling, dramas such as Midnight Express and Mississippi Burning.  He delivers here an exuberant adaptation of Doyle's work with a great cast (including Colm Meaney, Glen Hansard and Sean Hughes).  The music is terrific and did no harm to the burgeoning careers of Hansard, Angeline Ball, and the then newly-discovered Andrew Strong.  44 different locations around Dublin were employed during filming and include Saint Francis Xavier Church and Kilbarrack DART Station.  The film went on to international success and was a BAFTA award winner for Best Film.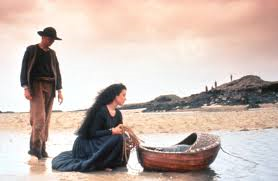 The Secret of Roan Inish (John Sayles 1994)
This one has been somewhat overlooked since its release methinks.  John Sayles – best known for independent gems such as Passion Fish and Lone Star – adapted the novel Secret of the Ron Mor Skerry by Rosalie K. Fry (which was, incidentally, set in Scotland).  The story in Sayles' version centres on a young girl who is sent to live with her grandparents in a remote Irish fishing village.  She begins to hear several narrative threads concerning the locality and her own family, particularly about the small island of Roan Inish from whence her grandfather's family came.  The folklore of selkies (seals that can shed their skin to become human) is heavily referenced as the girl searches for her baby brother Jimmy, who she suspects is himself a selkie.  A beautiful blending of legend and reality, this is perhaps Sayles' most visually splendid film; part of it was shot in County Donegal.  Irish actors John Lynch and Susan Lynch feature amongst the cast.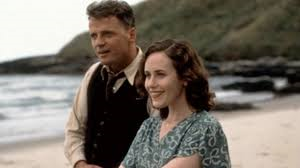 This Is My Father (Paul Quinn 1998)
The Quinn brothers, Aidan (actor), Paul (director), and Declan (director of photography) collaborated on this Irish-American film from 1998 which tells the story of a son (James Caan) returning to the old country to unravel the story of a father he never knew.  Juxtaposing scenes from 1930s Ireland with its contemporary 1990s setting, This Is My Father is rather like Roan Inish in that it never quite received the attention and acclaim it fully deserved.  It's quite a beautiful, moving film with a perfectly measured performance from Aidan Quinn in the central role, and an Irish supporting cast to die for – Colm Meaney, Brendan Gleeson, Gina Moxley, Pat Shortt, Donal Donnelly, Eamon Morrissey, Stephen Rea and John Kavanagh.  John Cusack also turns up as an American pilot.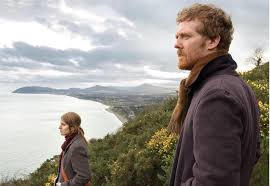 Once (John Carney 2007)
The little Irish film that could.  A phenomenal success if one considers that this was made on a shoestring budget and involved two non-professional actors in the lead roles – Glen Hansard and Marketa Irglova.  One of their songs from the film – "Falling Slowly" – won them the Best Song Oscar at the 80th Academy Awards, but the real pleasure in this film is the way director Carney is able to pick out intimate moments between the two main characters and extract from them performances of utter depth and charm.  Much of Dublin is on view as well, such as Hansard's busking on Grafton Street.  An award-winning musical has followed on from this and has also proved to be a huge success.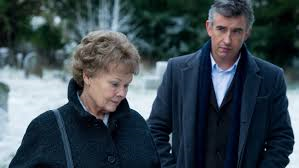 Philomena (Stephen Frears 2013)
I only saw this one recently, but I have to admit it really moved me in a way I didn't expect.  Based on The Lost Child of Philomena Lee by journalist Martin Sixsmith, this features one of Judi Dench's best performances, as well as an unusually restrained Steve Coogan.  Both actors play off each other to great effect, but the lion's share of praise here should go to Coogan and his co-writer Jeff Pope for an extremely astute adaptation that combines both pathos and humour in equal measures.  Devastating to think however that institutions such as the Sean Ross Abbey in Roscrea existed and perpetuated such an utterly unscrupulous business.  Stories such as this one demand to be told as we re-evaluate the role the church played in secular lives.  And a film such as this is also necessary for such re-appraisals to reach an even wider audience.  Let's also remember that it has some pointed comments to make on homophobia and the reluctance on the part of establishment America to come to terms with same-sex relationships.  A triumph all round.