Top Ten Films of 2018
And so another year of cinema-going is rapidly drawing to a close.  Whilst not necessarily a vintage year, 2018 still had many fine films on offer and some notable watersheds with respect to box office records.  The champion in this latter regard was undoubtedly Marvel's Avengers: Infinity War which became only the fourth film ever to surpass the $2 billion mark in terms of worldwide gross.  The behemoth that is the MCU also scored notable hits with Black Panther and Ant-Man and the Wasp.  Elsewhere, Universal's Jurassic World: Fallen Kingdom and Disney's Incredibles 2 surpassed the magic $1 billion mark; Bohemian Rhapsody became the highest-grossing musical biographical film of all time; and Tom Cruise enjoyed the highest-grossing hit of his career to date by way of Mission: Impossible – Fallout.  At the 90 Academy Awards held in March, Guillermo del Toro's The Shape of Water reigned supreme with Oscars for Best Picture and Best Director; Gary Oldman took home Best Actor for his turn as Winston Churchill in Joe Wright's Darkest Hour; and Frances McDormand won her second gold statuette in the Best Actress category for Martin McDonagh's Three Billboards Outside Ebbing, Missouri.  The Japanese film Shoplifters prevailed at the 71st Cannes Film Festival held in May; Alfonso Cuaron's Roma won the Golden Lion at the 75th installment of the Venice Film Festival.  We had some fine horror films by way of the genuinely creepy Hereditary and the post-apocalyptic A Quiet Place.  The eleventh installment in the Halloween film series did not disgrace itself.  Nor did Creed 2 which proved that there is more than a bit of life left in the Rocky franchise.  The less said about Fantastic Beasts: The Crimes of Grindelwald, on the other hand, the better perhaps.  Some of the sad departures which took place during 2018 included some very famous names – our deep-felt thanks to the likes of Milos Forman, Neil Simon, Burt Reynolds, Stan Lee, William Goldman and Bernardo Bertolucci for the many cinematic memories they have left us.  Lest we forget.
Below is a list of my top ten films for 2018 in alphabetical order.  I've chosen these films from those which were theatrically released in Ireland during the year, so no obvious quibbles please about certain films more properly belonging in 2017.  It's a matter of opinion ultimately, but see if you agree with any of my choices.  Perhaps you might even care to send me on your own personal selection.  So here they are for the cinema year that was 2018: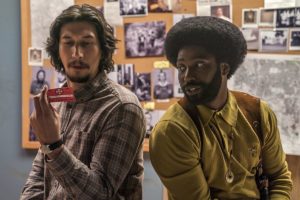 BlacKkKlansman (Spike Lee)
Spike Lee's most engaging film in several years was not without its hard-hitting themes and its theatrical release – coinciding with the first anniversary of the white supremacist Unite the Right Rally – more than made a point.  Set in 1970s Colorado Springs, and based on the 2014 memoir by Ron Stallworth, Lee's latest cinematic offering had a spirited John David Washington (son of Denzel) infiltrating the local chapter of the Ku Klux Klan with the help of Adam Driver no less.  The events which ensued were amusing in part, but – more to the point – topical and weighty.  The former Grand Wizard of the Klan himself – David Duke – was portrayed by an in-form Topher Grace.  The great Harry Belafonte turned up in a nicely-judged cameo appearance.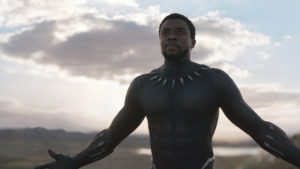 Black Panther (Ryan Coogler)
Avengers: Infinity War may have made more money at the box office, but this was most peoples favourite superhero film of the year and, certainly, one of the most popular in the MCU to date.  A story which packed some real dramatic punch, and not a little heart, introduced us to the nation of Wakanda and their king T'Challa (Chadwick Boseman) – the central character of the title.  Coogler regular Michael B. Jordan provided a more than worthy adversary in the form of T'Challa's disgruntled cousin N'Jadaka/Killmonger.  A fine cast was rounded out by the likes of Daniel Kaluuya, Martin Freeman and Lupita Nyong'o and the CGI effects were not as jarring as some critics suggested.  The late Stan Lee made his regular cameo appearance playing an elderly patron in a casino.  With three nominations at the forthcoming 76th Golden Globe Awards, this has a more than reasonable chance of becoming the first MCU film to secure an Oscar nomination for Best Picture.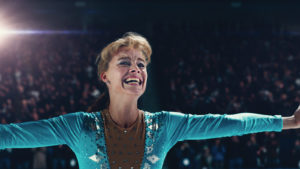 I, Tonya (Craig Gillespie)
Biographical films with a penchant for the dark side are seldom as good as this offering from director Gillespie (Lars and the Real Girl) which concerned it with the true (almost we think) life story of figure skater Tonya Harding.  In the central role, Margot Robbie has never been better, but the scene-stealing performance here was that of Oscar winner Allison Janney for her memorable turn as LaVona Golden (Tonya's near-tyrannical Mom).  Taking on the structure of a documentary, I, Tonya had much to say about the role of the media and the fleeting nature of fame and, indeed, infamy.  The famous 'incident' – as referred to by several of the central characters – namely the 6th January 1994 assault on Nancy Kerrigan – was cleverly presented in ambiguous terms.  A fitting reappraisal of its feisty titular character who, ultimately, deserved more than her white trash reputation allowed.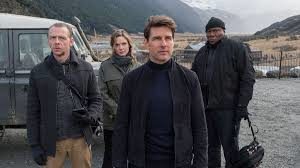 Mission: Impossible – Fallout (Christopher McQuarrie)
The sixth installment in the Mission: Impossible series was one of the best action films in years and saw Tom Cruise push himself in ways one would never have imagined possible for a star in his mid-fifties.  Raising-the-bar action sequences included a HALO jump over the city of Paris and a climactic helicopter chase which, happily, employed some tight editing and effective intercutting.  Returning writer-director McQuarrie brought strains of subterfuge and double-crossing to the proceedings with a typically deft touch, but best of all was the incessant sense of excitement which never abated.  A seventh entry cannot be ruled out as long as the Cruiser keeps himself and his action buddies in shape.  The $790 million haul at the box office should concentrate minds in this latter regard.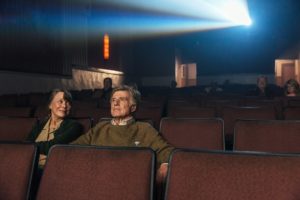 The Old Man & the Gun (David Lowery)
For the record, this is the third year in a row in which a film directed by David Lowery has appeared in my Top Ten list (Pete's Dragon in 2016 and A Ghost Story in 2017) and with good reason.  This gentle true-life tale of an ageing career criminal – played by a peerless Robert Redford – was simply irresistible and oozed charm with respect to its subject matter.  A fine supporting cast included the equally effective Sissy Spacek, Lowery regular Casey Affleck, Danny Glover and Tom Waits.  The 82-year-old Redford has publicly stated that this is his last cinematic performance and – if such is the case – then what a high note to go out on.  An effortlessly entertaining piece which delights from start to finish.  And thanks for this and so many others Bob.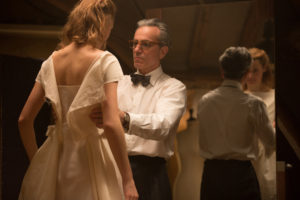 Phantom Thread (Paul Thomas Anderson)
Daniel Day-Lewis's swansong as an actor?  We dared to hope not, but thus far the great man is adamant that this is his final work in front of the camera.  There was so much to admire in director Paul Thomas Anderson's sumptuous period drama which concerned itself with a meticulous and fixated fashion designer, Reynolds Woodcock (Day-Lewis) who takes on a young waitress by the name of Alma (Vicky Krieps) as his latest muse and love interest.  Wonderful support was offered by the Oscar-nominated Lesley Manville as Reynolds's tough-love sister Cyril.  Fans of Anderson (this reviewer included) relished the director's continued interest in the themes of obsession and compulsive behaviour.  The superb score by Anderson regular Jonny Greenwood did not hurt either.  Moments of silent malice and simmering tension have seldom been so effective.  But those with an aversion for mushrooms might feel appropriately justified after just one viewing of this.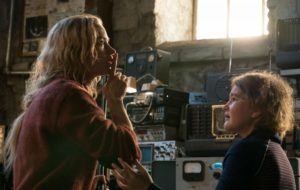 A Quiet Place (John Krasinski)
Krasinski's post-apocalyptic horror film – concerning extraterrestrial creatures which employ their aural acuity to sense and hunt their prey – was terrific for several reasons, not least the performances of its leads (including Krasinski himself and wife Emily Blunt) and the tense atmosphere which the director managed to convey with a sparsity of dialogue.  The emotional core of the film lay in the effects such a Dystopian environment had on the family unit itself and we duly marvelled at the tight storytelling in this respect, as well as the more overt set-pieces and final denouement.  The central message of the film was perhaps summed up in one of the rare lines of dialogue as uttered by Blunt's maternal character – 'Who are we if we can't protect our children?'  An enthralling entry in this particular genre which managed to both entertain and to move in equal measure.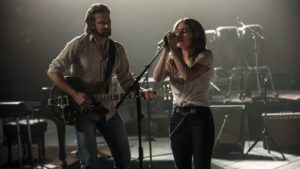 A Star Is Born (Bradley Cooper)
The third American remake of the 1937 original film did not break new ground with respect to its themes and narrative thread, but it nonetheless served up one of the very best entertainments of 2018.  On directorial and writing duties here as well, Bradley Cooper excelled as the troubled Jackson Maine, an established singer-songwriter with more than a little emotional baggage.  Equal to the task was Lady Gaga as Ally, the young aspiring singer whom Jackson discovers.  An excellent supporting cast included Andrew Dice Clay and the evergreen Sam Elliott.  The performance of the standout song Shallow – in which Cooper's Maine entices Gaga's Ally on stage – was a genuinely spine-tingling moment.  Other memorable songs included Always Remember Us This Way and the jaw-dropping finale that was I'll Never Love Again.  Should figure prominently in several categories when the Oscar nominations are announced early in 2019.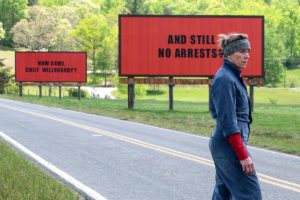 Three Billboards Outside Ebbing, Missouri (Martin McDonagh)
Martin McDonagh's best feature film to date had more than a few shades of the Coen Brothers about it with regard to its setting, themes and the presence of Frances McDormand in the central role.  McDormand won her second Best Actress Oscar playing Mildred Hayes, a grieving mother who rents three billboards to remind the powers-that-be about her daughter's unsolved rape and subsequent murder.  A terrific supporting cast included the likes of Peter Dinklage, Lucas Hedges, the Oscar-nominated Woody Harrelson and the Oscar-winning Sam Rockwell (Best Supporting Actor).  McDonagh's finely-measured script contained some darkly comic moments, which jarred with some viewers, but also served to emphasise the similar predicaments of its main characters and, by extension, the human condition.  There are no heroes on display here; just mere mortals who are as flawed as one another.  The critical plaudits were – on the whole – thoroughly-deserved.  So too were the aforementioned acting Oscars.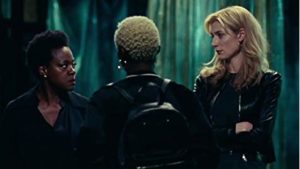 Widows (Steve McQueen)
An atypical heist movie from director McQueen (12 Years a Slave), this one was especially resonant with respect to the central prominence it afforded its female characters – the widows of the title – played by Viola Davis, Michelle Rodriguez and Elizabeth Debicki.  The screenplay by McQueen and Gillian Flynn was consistent with the thematic strain which emphasised empowerment through action as opposed to acquiescence and resignation.  It helped matters as well that the ensemble cast included Liam Neeson, Colin Farrell, Robert Duvall, Jacki Weaver and Daniel Kaluuya.  Based on the 1983 ITV series of the same name, this was one of the genuine cinematic delights of the year.  Much more than just a mere Ocean's 8 we are very happy to report.