Top Ten Films Of 2019
And so we approach the end of another year of cinema-going.  So how was 2019 for you at the movies?  A vintage year or one of only middling fare?  Certainly, it will be one remembered for some notable box office records as Marvel's Avengers: Endgame became the highest-grossing film of all time and Disney's The Lion King the highest-grossing animated film.  The House of Mouse did ever so well at the international box office with the likes of Captain Marvel, Toy Story 4 and Aladdin also breaking the magic one billion dollars mark in terms of revenue.  In other news, Todd Phillips's Joker – starring a typically committed Joaquin Phoenix – became the first R-rated film to pass the billion-dollar mark worldwide.  2019 was the first year to have eight films cross the billion-dollar milestone and the continuing dominance of The Walt Disney Company was further underlined earlier in the year as it completed its acquisition of the assets of 21st Century Fox.  Expect more such ascendancy to follow in the years to come.
In terms of awards given out during the course of the year, Peter Farrelly's perfectly acceptable Green Book held off the challenge of Alfonso Cuaron's Roma at the 91st Academy Awards and there were notable wins for Rami Malek (Best Actor for Bohemian Rhapsody), Olivia Colman (Best Actress for The Favourite), Mahershala Ali (Best Supporting Actor for Green Book) and Regina King (Best Supporting Actress for If Beale Street Could Talk).  At the 2019 Cannes Film Festival, the coveted Palme d'Or was awarded to the South Korean film Parasite.  The aforementioned Joker was the surprise winner of the Golden Lion at the 76th Venice International Film Festival.  As the awards season gathers pace following the recent Golden Globe nominations, the emergence of Netflix as a major player continues to be readily evident.  The production company, which operates out of Los Gatos, California, could have a number of best film nominees at next year's Oscars by way of The Irishman, Marriage Story and The Two Popes.  Opinion may still be divided on the cinematic merits of such releases, but the rapidly flourishing status of Netflix's position in the entertainment world is beyond doubt.  With an estimated budget of $160 million for Martin Scorsese's The Irishman, the company, which was founded in 1997, clearly has capital and clout aplenty.
Some of the sad departures which took place during the calendar year included the likes of American actress Verna Bloom (High Plains Drifter), English actor Albert Finney (Tom Jones), Swiss actor Bruno Ganz (Downfall), American director Stanley Donen (Singin' in the Rain), American director John Singleton (Boyz n the Hood), American actress Doris Day (Pillow Talk), Italian director Franco Zeffirelli (Romeo and Juliet), Dutch actor Rutger Hauer (Blade Runner), American actor Peter Fonda (Easy Rider), American producer Robert Evans (Chinatown) and Danny Aiello (Do the Right Thing).  We thank them for the many cinematic memories they provided during the course of their careers and we wish them a gentle rest.
Below is a list of my top ten films for 2019 in alphabetical order.  I've chosen these films from those which were theatrically released in Ireland during the course of the year.  A list of this nature is always an entirely subjective thing of course, but see if you agree with any of my choices.  Perhaps you might even care to send me on your own personal selection if you want to chance that particular discussion.  In any event, here are my own favourites for the cinema year that was 2019: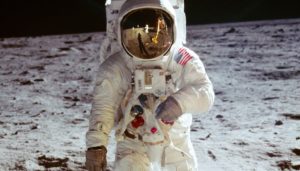 Apollo 11 (Todd Douglas Miller)
The exploits of the first landing on the moon in July 1969 were re-visited to brilliant effect in Todd Douglas Miller's documentary which included 70 mm film previously unseen by the public.  Neil Armstrong, Buzz Aldrin and Michael Collins took centre stage once again in this wonderful film which – notably – did not employ narration or contemporary interviews.  Instead, Miller relied on the archival material to re-tell this powerful and pivotal story.  His confidence in that latter regard was more than well-founded.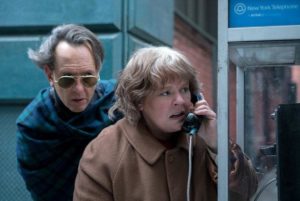 Can You Ever Forgive Me? (Marielle Heller)
The confessional memoir of the same name by author Lee Israel provided the opportunity for career-best performances (to date) for Melissa McCarthy and Richard E. Grant.  The themes of alcoholism and writer's block were dealt with in this bittersweet film, but the most abiding subject matter was surely that of loneliness.  The script by Nicole Holofcener and Jeff Whitty found moments of humour even as it examined a human life plunging the depths of despair.  The direction by Marielle Heller was absolutely on the money in this ultimately affecting tale.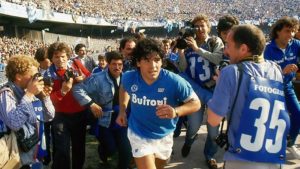 Diego Maradona (Asif Kapadia)
Following on from his considerable success with 2010's Senna and 2015's Amy, director Asif Kapadia turned his attention to the troubled genius of Argentine footballing legend Diego Maradona and the period of his career with Italian club Napoli from the mid-1980s to early-1990s.  The Academy Award-winning filmmaker has described this as 'the third part of a trilogy about child geniuses and fame.'  The lesson imparted was that celebrity ultimately has its downside and that stardom can exact a huge personal price.  The stark dichotomy between Diego the man and Maradona the idol was one of the central themes of this excellent documentary.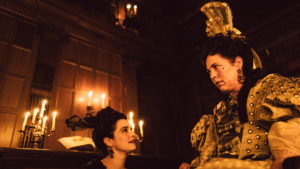 The Favourite (Yorgos Lanthimos)
Lanthimos's period black comedy concerning two cousins (Emma Stone and Rachel Weisz) who are vying to be the court favourites of Queen Anne (Olivia Colman) confirmed that the Greek film director is indeed a serious talent going from strength to strength.  The performances of the three female leads garnered fully-deserved Oscar nominations and an Academy Award for Best Actress for Colman.  The multitude of rabbits purportedly owned by the ailing Queen was one of many peculiarities which lingered in the mind long after the end credits had rolled.  Irish cinematographer Robbie Ryan did a typically brilliant job behind the camera.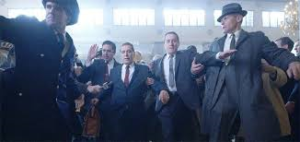 The Irishman (Martin Scorsese)
My own personal favourite of 2019, Scorsese's epic crime drama may have run some three-and-a-half hours in length, but a trip to the cinema (during its limited release) was more than worth the effort with respect to the depth of film-making and top-notch performances on display.  Robert De Niro returned to his very best as Frank 'The Irishman' Sheeran and Joe Pesci came out of unofficial retirement to equally good effect.  The film belonged to Al Pacino however as labour union leader Jimmy Hoffa whose disappearance in July 1975 was attributed to Sheeran.  A superb supporting cast included the likes of Harvey Keitel, Anna Paquin, Bobby Cannavale and Ray Romano.  Pacino's squabble with Stephen Graham's 'Tony Pro' on the certain matter of timekeeping was worth the admission price alone.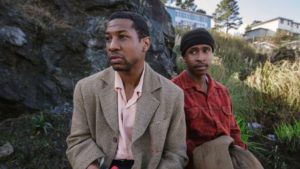 The Last Black Man In San Francisco (Joe Talbot)
The story of an African-American man by the name of Jimmie Fails (played by Jimmie Fails himself) who tries to reclaim a Victorian house in San Francisco's Fillmore District, which he believes to be his childhood home, was one of the unexpected cinematic pleasures of 2019.  An excellent cast including Fails, Jonathan Majors and the wonderful Danny Glover served to make the poignancy of the tale all the more immediate and palpable.  At this year's Sundance Film Festival (held way back in January), the film garnered awards for Best Directing and a Special Jury Prize for Creative Collaboration.  The gongs were well deserved.  First-time feature director Joe Talbot established himself as one to watch for the future.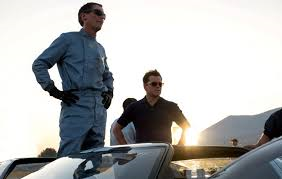 Le Mans '66 (James Mangold)
Otherwise titled Ford v Ferrari, this was one of the best sports drama in recent years and did not require an enthusiasm concerning racing or even cars for that matter.  Matt Damon plays Carroll Shelby, a former driver and engineer, heading up a team put together by Henry Ford II which is determined to end Ferrari's dominance at the famous endurance event at Le Mans.  Christian Bale is Ken Miles, a gifted driver and World War II veteran, whose unconventional style might not be exactly what his paymasters ultimately want.  Can they prevail at the 34th Grand Prix?  Don't read the sporting history books for the answer – go and watch the film instead.  Irish actress Caitriona Balfe plays Miles's wife Mollie.  James Mangold provides typical zest in the director's chair.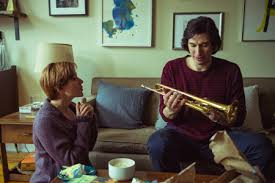 Marriage Story (Noah Baumbach)
Was there a better performed film in 2019?  Probably not when one considers the sterling work done by leads Adam Driver and Scarlett Johansson in this sometime-funny and ultimately affecting tale of a married couple working their way through an 'amicable' divorce.  One of the central lessons of Noah Baumbach's movie (which he also wrote and produced) was that, in American legal circles, there is no such thing as a cordial separation.  A superb supporting cast included Laura Dern, Alan Alda, Ray Liotta, Julie Hagerty and newcomer Azhy Robertson.  Driver's performance of Being Alive from the Stephen Sondheim musical Company was one of many highlights; as was one particularly vicious confrontation which takes place between himself and Johansson's character.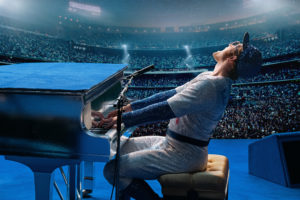 Rocketman (Dexter Fletcher)
Following on from 2013's Sunshine on Leith and 2018's Bohemian Rhapsody, Dexter Fletcher proved beyond doubt that he has an unerring eye for the biographical musical drama.  As the title suggested, the focus of his film was Elton John from the time of his humble beginnings to widespread fame.  Welsh actor Taron Egerton was perfectly cast as the troubled musician grappling with his growing addictions to alcohol and drugs.  Jamie Bell was also more than credible as his writing partner Bernie Taupin.  The music created by the two men was put to splendid use including the sold-out shows at Dodger Stadium in 1975.  Hits such as Your Song and Tiny Dancer sounded as good as ever.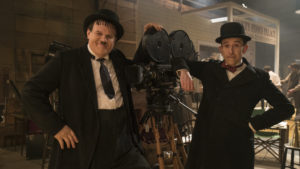 Stan & Ollie (Jon S. Baird)
Another famous artistic collaboration – that of Stan Laurel and Oliver Hardy.  The comic duo have seen better days in director Jon S. Baird's nostalgic film and a grueling music hall tour of the United Kingdom and Ireland is deemed necessary to put them back on the map.  But there are abiding differences, regrets and more than a smattering of bitterness to be worked through along the way.  Steve Coogan and John C. Reilly were perfectly paired as the greatly-loved comedians.  Shirley Henderson and Nina Arianda offered wonderful support as their spouses.  A deep-felt sense of poignancy hung over this one, but the gags and sketches served to remind us of how vibrant and funny this gifted comic pair once were.