'Well, nobody's perfect' – 60 Years of Some Like It Hot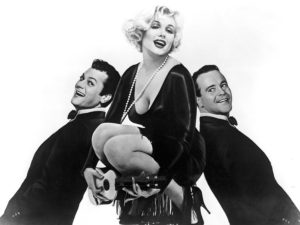 Billy Wilder's classic black and white comedy Some Like It Hot celebrates the 60th anniversary of its theatrical release on the 29th March, 2019 and we look back upon this enduring film which has more than stood the test of time.  Set in the year 1929 – during prohibition-era America – and based on the 1935 French film Fanfare of Love and its subsequent West German remake Fanfares of Love (1951) – the central narrative thread will be very familiar to those of us who have seen it twice or twenty-two times.  Two down-on-their-luck musicians on the run from the mob (they've just witnessed a gangster massacre) disguise themselves as women in order to skip town and obtain work.  Played by Jack Lemmon (Jerry) and Tony Curtis (Joe), the two men join an all-female band which is headed to the warmer and more hospitable climes of Miami.  Once there (and also en route), all sorts of shenanigans break out which play upon the principal comic platforms of sexuality, cross-dressing and multiple identities.  The film's many plus points include the deft script by Wilder and I.A.L. Diamond and the universally immaculate cast which includes the aforementioned Lemmon and Curtis as well as Marilyn Monroe in surely one of her most iconic performances.  The word perfect – as referred to in the title of this piece – does not often apply to comedy films, but this is certainly one instance whereby it deserves to be uttered profusely.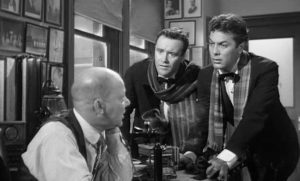 The film's reputation has been further enhanced in recent years with the publication of some telling lists.  In 2017 BBC Culture polled a total of 253 film critics from 52 countries in order to determine the most amusing films of all time.  Some of the choices which appear on the final list were of no great surprise (Kind Hearts and Coronets, Arsenic and Old Lace, The Awful Truth, Tootsie, City Lights, His Girl Friday, Bringing Up Baby); some we would have to question the exact genres and whether the term comedy is completely precise (Pulp Fiction, Broadcast News); others – inevitably – we might well dispute owing to their higher ranking when compared to classics of the genre (how does Anchorman poll higher than the likes of Sullivan's Travels and The Philadelphia Story I ask).  But there was little dispute – and no great howls of surprise – when the highest-ranked film was named.  Some Like It Hot feels like the greatest comedy in the same way that John Ford's The Searchers has attained the mantle of greatest western.  Everyone, it seems, has seen it.  No one speaks badly of it.  More than a few find themselves compelled to watch it over and over again.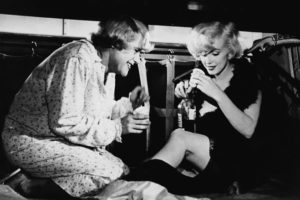 Shot in California during the summer and autumn of 1958, the film of course is largely set in Florida with the Hotel del Coronado in San Diego doubling as the Seminole Ritz Hotel in Miami.  The central action of Some Like It Hot takes place here as the all-female band – under the stewardship of Sweet Sue (Joan Shawlee) and Bienstock (Dave Barry) – arrive to play a series of shows.  Having experienced the charms and sexual potency of Sugar Kane (Monroe), Joe and Jerry (being red-blooded males) are naturally eager to make an impression.  But both are seemingly curtailed by the roles they must play and the disguises they must maintain (their very lives depend upon it).  Matters become even more complicated in this regard when 'Spats' Colombo (George Raft) – the perpetrator of the mob killing in Chicago – arrives in the Magic City with his obsequious heavies in tow.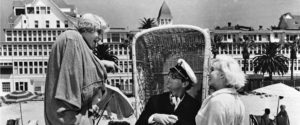 The obvious visual gags and jokes concerning the theme of cross-dressing aside ("Yes, we're the new girls"…"Brand new"), the film has much to say about the nature of personal identity and also manages to impart an underlying message of inclusion.  Let's remind ourselves of the fact that the Motion Picture Production Code (or Hays Code as it was more popularly known) was still in vogue at the time of the film's theatrical release.  Some Like It Hot embraces a theme of greater social tolerance even as it offers up double entendres and a glorious vein of innuendo ("Do you use a bow or do you just pluck it?"enquires Joe E. Brown's memorable Osgood Fielding).  The fluidity of the identities and sexual gender is a notable aspect of the film.  Jack Lemmon's female alter ego Daphne seriously considers the notion of marrying an ageing millionaire who, by all accounts, has gone through a plethora of marriages and divorces.  When reminded by Curtis's Joe that he is in fact a boy, Jerry bemoans the fact that no other man has ever been so good to him.  The film's final and immortal line – as uttered by Joe E. Brown – continues this theme of inclusion to the very end.  It's easy in this regard to see how Some Like It Hot has influenced later comedies such as 1982's Tootsie and 1993's Mrs. Doubtfire.  The former film – which has also stood the test of time thus far – features Dustin Hoffman as an out-of-work actor who takes on the garb and persona of a female actress in order to obtain work on a successful soap.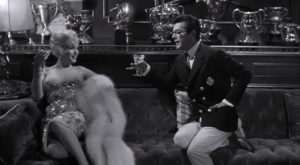 The film is at its most hilarious perhaps when Curtis's character Joe adapts a further guise apart from that of his saxophone-playing Josephine.  Following a heart-to-heart conversation with Sugar Kane on board the train to Miami, the wily musician assumes the role of a bespectacled millionaire named Junior who, apparently, is the heir to Shell Oil.  Pretending to be unassuming and frigid (in his very best Cary Grant impersonation), Joe manages to entice the smitten Sugar aboard his supposed yacht (which is actually owned by Osgood Fielding).  The ruse works to perfection because Sugar has previously expressed her intention to find a millionaire who will treat her right and help her avoid the "fuzzy end of the lollipop" which has been her romantic lot to this point – "I don't care how rich he is, as long as he has a yacht, his own private railroad car, and his own toothpaste."  To this end, Sugar is also acting in a self-serving type of way just as is Lemmon's Jerry who is dancing the night away with Osgood so that Joe can use his yacht.  One of the many remarkable things which the film pulls off is that it presents us with characters who have ulterior motives and yet this never serves to engender a feeling of dislike or contempt for them or their actions.  Some Like It Hot has an enduring warmth and effortless charm about it which means that, 60 years later, it is as appealing as it was on its initial release.  Who could not laugh out loud at that scene aboard the yacht in which Marilyn's Sugar attempts to break down the walls of Junior's feigned indifference with her attentive canoodling – "I think you're on the right track" he tells her; "I must be.  Your glasses are beginning to steam up" she replies.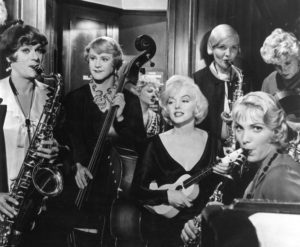 The cast of Some Like It Hot is as close to perfection as one could hope for and I've already made reference to Joan Shawlee, Dave Barry, George Raft and Joe E. Brown.  Brown – as I've previously mentioned – is especially memorable for his outrageous flirting and pursuit of Jack Lemmon's Daphne.  The tango dance which the two share (with Lemmon leading by mistake) is one of the highlights of Some Like It Hot and the film's famous closing line – "Well, nobody's perfect" – is delivered by Brown after Lemmon's character has revealed to him that he is in fact a man.  Another notable to watch out for is Pat O'Brien who plays the treasury agent Mulligan.  Currently aged 99 (at the time of posting this article), Nehemiah Persoff is the last surviving credited cast member of the film.  Persoff plays the part of the gangster boss Little Bonaparte which he performed as a knowing parody of one Benito Mussolini.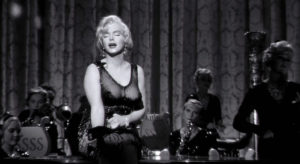 It's impossible to imagine any other actors in the roles of Joe/Josephine/Junior and Jerry/Daphne except Tony Curtis and Jack Lemmon.  Lemmon received an Oscar nomination for Best Actor for his efforts, but, in truth, Curtis is equally deserving of any such kudos.  There's little doubt that this is one of Marilyn Monroe's most famous roles and best performances (she earned a Golden Globe award for Best Actress in a Motion Picture – Comedy or Musical).  The stories which subsequently emanated from the set regarding Monroe's difficulties and her failure to remember her lines all appear to be true.  Constant takes were required which almost pushed Wilder to the edge and caused Curtis to remark that kissing her over and over again was akin to 'kissing Hitler.'  But Monroe's star quality and undeniable screen presence shine through to this very day.  The top-billed actress would complete just two more films prior to her untimely death in 1962 (Let's Make Love and The Misfits).  Over half a century since her passing, Norma Jeane is still radiant and continues to exude effortless charm and persona in this and other films such as Gentlemen Prefer Blondes, Bus Stop, How to Marry a Millionaire and The Seven Year Itch (which was also directed by Wilder).  There have been few stars who made such an impact in so short a space of time.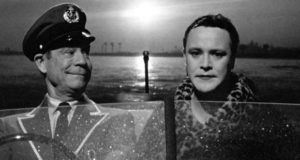 Billy Wilder made some timeless comedies during his much-decorated and illustrious career (The Fortune Cookie, Irma la Douce, One, Two, Three, The Apartment), but Some Like It Hot must surely rank as the very best one of these.  60 years after its initial theatrical release, the film continues to offer audiences laughs galore, wonderful one-liners and peerless performances.  It is perfect in so many ways and remains a cinematic comedy treasure.  We salute the talents that helped make it the classic that it is to this day, most especially Wilder, Monroe, Lemmon and Curtis.  Happy 60th Some Like It Hot.  As Joe E. Brown's Osgood Fielding would put it – "Zowie!!"