Who Will Win At the 89th Academy Awards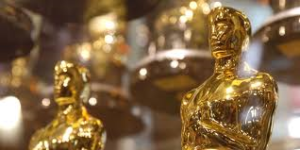 The 89th Academy Awards ceremony takes place next Sunday night, 26th February 2017, at the Dolby Theatre in Hollywood.  When host Jimmy Kimmel takes to the stage many will fancy they have a pretty good idea of what those sealed envelopes will reveal as the evening unfolds.  The smart money is on awards darling (to date) La La Land to prevail in many of the 14 categories it has been nominated in.  At just a few days remove, it is indeed difficult to see anything but a triumph for that film in such major categories as Best Picture, Best Director and Best Actress in a Leading Role.  But not everything is sewn up just yet.  There remain some significant prizes which are very much up for grabs.  Let's take a look at the 10 main categories and consider where those gold statuettes might go.  Some surprises you think?  There might yet be.  Last year for example Mark Rylance beat the highly-fancied Sylvester Stallone to Best Supporting Actor.  Don't ever discount an upset or two at the Oscars.  Here are my predictions for Sunday night.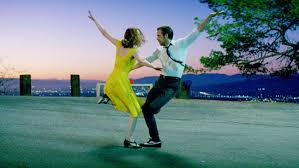 Best Picture:
Well I'm beginning with what seems to be a dead cert.  La La Land has had Oscar win written all over it ever since premiering at the Venice Film Festival in August of last year.  It has the most number of nominations with 14 (tying for a record in this latter respect with Titanic and All About Eve) and scored big time at both the Golden Globes (7 wins) and the British Academy Film Awards (5 wins).  Its momentum does not seem to have flagged despite talk of a potential backlash a few weeks ago.  The only other nominated film which seems to have any chance of catching it is Barry Jenkins' Moonlight, but I just don't see this happening.  After a tight race last year between Spotlight and The Revenant, expect few surprised cheers in the audience when that final envelope is ripped open.  La La Land to hit the high notes.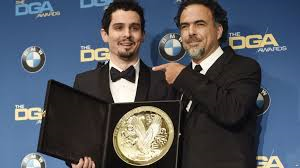 Best Director:
The Academy split Best Film and Best Director last year with Spotlight sneaking in for Best Picture (despite only triumphing in one other category on the night) and The Revenant's Alejandro Gonzalez Inarritu winning his second Best Director Oscar in a row.  This year should be less complicated.  Traditionally Best Picture and Best Director go hand-in-hand, but not always so.  There was last year for example; there was the year of 12 Years a Slave and Gravity; Ang Lee won for Life of Pi when the Academy failed to nominate Ben Affleck for Argo; many still have not forgotten or forgiven the split which occurred when Crash stole Best Picture and another Ang Lee film Brokeback Mountain had to settle for Best Director.  But as I hinted above, I see no such split occurring this time around.  La La Land's Damien Chazelle recently won the prestigious Directors' Guild of America Award.  That latter honour normally presages where the Oscar for Best Director will go.  At the tender age of 32, Chazelle will become the youngest recipient of this particular award.  Norman Taurog has held this record since 1931 at 32 years and 260 days.  Chazelle turned 32 as recently as the 19th January.  Youth to prevail here I do believe.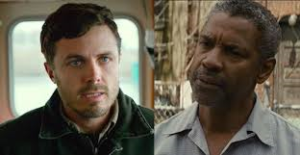 Best Actor:
Now comes one of the really tight races and with full respect to Ryan Gosling, Viggo Mortensen, and Andrew Garfield, this one has narrowed down to two actors – Casey Affleck for Manchester by the Sea and Denzel Washington for Fences.  It was looking good for Ben's younger brother a few weeks back, but then Denzel beat him to the all-important Screen Actors Guild Award (SAG) for Outstanding Performance by a Male Actor in a Leading Role (astonishingly Washington's first ever SAG award).  SAG is normally very reliable and has turned the tide in the past (just think back a mere two years ago when The Theory of Everything's Eddie Redmayne won ahead of Birdman's Michael Keaton), so the momentum in this category would appear to be with Denzel.  If he does win (and I'm tipping him to just about edge Casey out here), he will join Jack Nicholson, Daniel Day-Lewis and Walter Brennan in an elite group of male actors who have won three acting Oscars.  Also – and perhaps more astonishingly – he would become only the third person ever to direct himself to an acting Oscar; the previous two are Laurence Olivier for 1948's Hamlet and Roberto Benigni for 1997's Life Is Beautiful.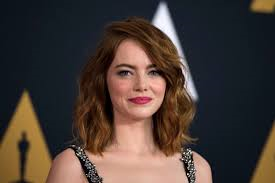 Best Actress:
Meryl Streep extends her own record with a whopping 20 acting nominations here for her delightful turn in Florence Foster Jenkins and the only other previous winner is Natalie Portman in Jackie.  Ruth Negga is a deserved nominee for her work in Jeff Nichols' Loving, but it's impossible to see her winning on this occasion.  For me it's down to Isabelle Huppert in Elle and Ms. Stone in La La Land.  The French actress was something of a surprise winner when she triumphed at the recent Golden Globe Awards in the category of Best Actress in a Motion Picture Drama.  But on the same night, Emma Stone won Best Actress in a Motion Picture Musical or Comedy and also won again at the BAFTAs.  The young actress is clearly on a roll and I, for one, do not see this coming to a halt next Sunday night.  Stone to win here and she will deliver a great acceptance speech as well.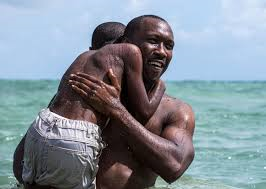 Best Supporting Actor:
One of the locks you would think as House of Cards regular Mahershala Ali has long been tipped to win for Barry Jenkins' genre-busting Moonlight.  Fellow nominee Jeff Bridges was terrific in David Mackenzie's Hell or High Water, but he is a previous winner himself for 2009's Crazy Heart.  Lucas Hedges is the rank outsider for Manchester by the Sea.  Dev Patel and the wonderful Michael Shannon complete the number respectively for their turns in Lion and Nocturnal Animals.  It's very hard to see past Ali though and I'm tipping him to win one of the first Oscars on the night.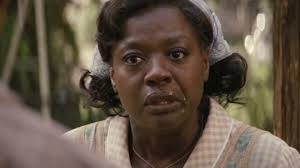 Best Supporting Actress:
Here's another straightforward one it would appear.  Viola Davis is long overdue an Oscar in many people's estimation and her sharing of the screen with Denzel Washington in Fences has brought out the very best in both actors.  The other four nominees (Nicole Kidman, Michelle Williams, Octavia Spencer and Naomie Harris) could be forgiven for not having their acceptance speeches polished or even prepared for that matter.  It's Viola all the way here methinks; she's won just about every other award for Fences and she will not be going home empty-handed come Monday morning.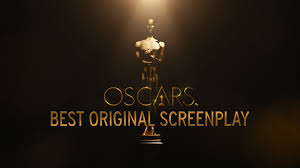 Best Original Screenplay:
The screenplay categories can often throw up a surprise or two and this year's Best Original award would seem to be between Kenneth Lonergan for Manchester by the Sea and Damien Chazelle for La La Land.  But let's not entirely discount Taylor Sheridan for his work on the excellent Hell or High Water.  The remaining two nominees here – The Lobster and 20th Century Women – make up the numbers.  It could be a close one, but I'm tipping Lonergan to just about shade it against Chazelle.  One of the few that La La Land will lose in this respect.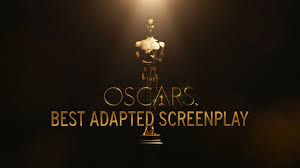 Best Adapted Screenplay:
Some great work on offer here as well and it's very nice to see the late August Wilson receive a posthumous nomination for his own play Fences.  Also nominated are Arrival, Hidden Figures and Lion.  The smart money (and indeed my own tip here) is on Barry Jenkins and Tarell Alvin McCraney to win for their adaptation of In Moonlight Black Boys Look Blue, a play by McCraney himself.  A terrific piece of writing all in all and no one will begrudge Moonlight its win in this particular category.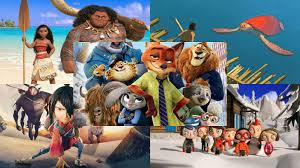 Best Animated Feature Film:
Incredibly, there is no Pixar film on the shortlist this year and instead we have a stop-motion film, Kubo and the Two Strings, (also nominated for Best Visual Effects), a French- Swiss co-production, My Life as a Courgette, the no-dialogue The Red Turtle and two Disney films Zootopia and Moana.  The former – the absolutely delightful Zootopia – has long been a favourite to win this particular award ever since its release in the Spring of 2016.  A year or so on, I fully expect it to make good on this promise.  Zootopia to win.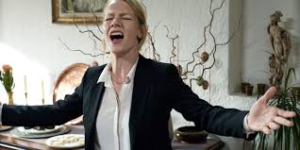 Best Foreign Language Film:
Germany's Toni Erdmann was the early front-runner in this particular category it seemed, but all has changed in the past few weeks and Iran's The Salesman is now the favourite on Sunday night.  The tale of a young couple who play the lead roles in a local adaptation of Arthur Miller's Death of a Salesman, the film has enjoyed a strong reputation ever since winning two major awards at last year's Cannes Film Festival.  More recently – and perhaps to its general advantage – came Donald Trump's immigration order.  Expect to hear plenty about that as well as a win for The Salesman next Sunday night.