William Holden's Centenary – Five of the Actor's Best Roles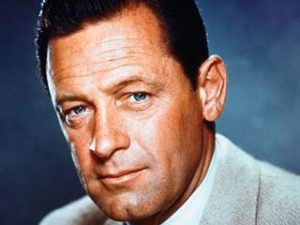 The centenary of the birth of William Holden takes place on the 17th April, 2018.  One of my own personal favourite actors of all time, Holden was born William Franklin Beedle Jr. on the 17th April, 1918 in O'Fallon, Illinois and reputedly earned his screen surname from one Harold Winston who named him after his ex-wife, actress Gloria Holden.  Holden's first starring role came by way of 1939's Golden Boy in which he played a promising violinist who wants to become a boxer.  Another notable early role was in Sam Wood's Our Town (1940), a big screen adaptation of the play of the same name by Thornton Wilder.  Holden served as a second lieutenant in the United States Army Air Corps during World War II and acted in training films for the First Motion Picture Unit.  His breakthrough role came five years after the end of the war with Billy Wilder's seminal Hollywood study Sunset Boulevard (1950); Holden was memorable as the down-on-his-luck screenwriter Joe Gillis who happens into the eerie and make-believe world of a faded silent movie actress named Norma Desmond (Gloria Swanson).  He received his first Academy Award nomination for Best Actor for this timeless film and won the Oscar three years later for another collaboration with Wilder, namely, 1953's Stalag 17 in which he excelled as the uber-cynical Sefton.  Other notable hits of the 1950s included 1954's Sabrina (again directed by Wilder), 1955's Picnic (in which he played a drifting former college football star who proves to be a distracting and disruptive presence in a small Kansas town) and 1959's The Horse Soldiers (in which he acted opposite fellow screen great John Wayne).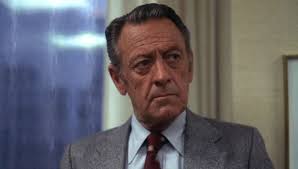 One of Holden's most famous roles came by way of David Lean's Oscar-winning The Bridge on the River Kwai in 1957.  Holden was again typically superb as the sceptical Commander Shears, an officer in name only who cannot understand the undying sense of military duty men such as British officer Colonel Nicholson (Alec Guinness) feel and live by.  His movie career receded quite noticeably in the 1960s as his personal life became more problematic, but he scored a comeback hit with Sam Peckinpah's epic western The Wild Bunch in 1969.  He starred in Clint Eastwood's Breezy (1973) to good effect as an older man who begins an intimate relationship with a woman many years his junior.  1974's The Towering Inferno – in which he acted opposite Paul Newman and Steve McQueen – provided him with one of his greatest commercial successes and he followed this up with one of his most lauded roles in 1976's Network directed by Sidney Lumet for which he received his third and final Academy Award nomination for Best Actor.  Holden's final film role was in the 1981 comedy S.O.B. directed by Blake Edwards.  In November of that same year, the actor passed away in Santa Monica, California following an accident in his apartment.  At age 63, he was far too young and one can only imagine some of the great performances his untimely death robbed us of.  But William Holden fitted much memorable screen work into his relatively short life and we can still marvel at some of his very best performances to this day.  So here's to the Golden Boy and his great body of work.  To mark the centenary of his birth, I've selected five of William Holden's best cinematic performances.  They are as follows: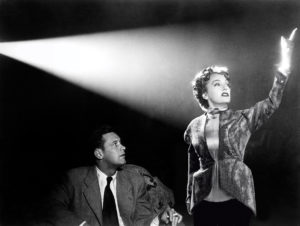 Sunset Boulevard (Billy Wilder 1950)
Montgomery Clift was originally signed to play the part of Joe Gillis for Billy Wilder's masterly and darkly comic vision of Hollywood, but the Red River star withdrew from the project just prior to the commencement of principal photography.  Holden – who had served as a second lieutenant in the United States Army Air Force during World War II – was selected by Wilder as Clift's replacement and the role served as a breakout piece for his career generally.  One of the greatest Hollywood films of all time, Sunset Boulevard begins in unconventional fashion being narrated by a dead man who lies floating in the pool of a Hollywood mansion.  Joe Gillis (Holden) tells us his story and how he came to meet such a violent end; a screenwriter of moderate talent who is on a losing streak ('I talked to a couple of yes-men at Metro.  To me, they said no.'), Gillis happens into the driveway of a lavish residence on the titular thoroughfare as he seeks to evade two pursuers intent upon his car.  There he encounters one Norma Desmond (Gloria Swanson), a silent film star of a bygone Hollywood era whose fame and reputation have long since receded.  Invited to stay on as a script doctor, Gillis soon learns of the fantasy world which Norma occupies; an illusion that her star still shines brightly is perpetuated by her devoted servant and first husband Max von Mayerling (Erich von Stroheim).  Appropriately described in a contemporary review as a story about 'Hollywood at its worst told by Hollywood at its best', Sunset Boulevard remains a cutting look at the industry itself and the toll it exacts upon the individual.  Norma Desmond is a pathetic figure, but she is also one deserving of our sympathy as acknowledged by both Gillis and Cecil B. DeMille (who plays himself).  She is the epitome of self-delusion; a character who cannot and will not accept the demise of her career and who comes to rely upon the comfort of this young stranger in her life.  Immortal lines, as uttered by Norma, include 'I am big!  It's the pictures that got small!' and 'All right Mr. DeMille, I'm ready for my close-up.'  The photography of John F. Seitz gives the film its noirish feel; the memorable score by Franz Waxman won one of the film's three Academy Awards.  Holden himself was nominated for Best Actor (the first of his career) and Sunset received a total of 11 nominations, including Best Motion Picture, Best Director and Best Actress for Swanson.  More importantly for the leading man himself was the fact that his stock rose considerably in the wake of Sunset's success and critical acclaim and he began to receive more job offers and prestigious parts.  One of these was 1953's Stalag 17 which saw him re-team with director Billy Wilder.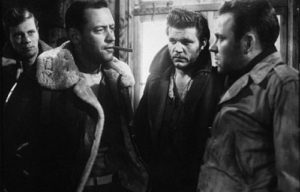 Stalag 17 (Billy Wilder 1953)
Charlton Heston and Kirk Douglas were reportedly considered for the role of J.J. Sefton in Billy Wilder's adaptation of the comedy-drama Broadway production, but it's hard to imagine anyone else in this role except William Holden.  The actor is at his cynical best here as the entrepreneurial prisoner-of-war who, in his own words, has learned to trade sharper with his German captors in order to survive and make the most of his incarcerated circumstances.  To this end, Sefton sees an angle in everything which includes the holding of mice races in the barracks and the setting up of a telescope trained on the nearby female Russian inmates.  Unsurprisingly, Sefton is highly unpopular with his bunkmates and this loathing grows as he becomes suspected of being the barracks stoolie.  Alienated and subsequently beaten by the other Americans, the gutsy Sefton determines to find out who the real stool pigeon is ('There are two people in this barracks who know I didn't do it.  Me and the guy that did do it.') and his attentions correctly focus on the head of security Price (Peter Graves).  One of the best prisoner-of-war films of all time, Stalag 17 is at once sharp and comic and benefits from Holden's tour-de-force performance.  The actor deservedly won the only Academy Award of his career and delivered one of the shortest acceptance speeches in Oscar history.  A short time later, he took out ads in the Hollywood trade papers to thank everyone he had wanted to on Oscar night and to also remark that he considered Burt Lancaster and Montgomery Clift more deserving of the gong for their respective work in From Here to Eternity.  Prominent supporting cast members include Robert Strauss and Harvey Lembeck (who both appeared in the original Broadway production), film director Otto Preminger and Don Taylor (who would later direct Holden in 1978's Damien: Omen II).  A marvellous POW film concludes appropriately with a successful breakout and a memorable rendition of When Johnny Comes Marching Home.  No great surprise that Holden's Sefton is one of the two escapees.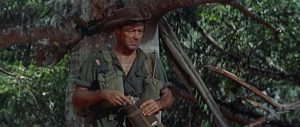 The Bridge on the River Kwai (David Lean 1957)
Holden's superb and award-winning work in Stalag 17 surely had some bearing on his casting for David Lean's 1957 epic war film which won seven Academy Awards including Best Picture.  He plays Shears in this one, a supposed commander in the US army, who has more than a streak of cynicism about him in the vein of J.J. Sefton.  Such an element of world-weariness is presented to us at an early stage as Shears witnesses the Colonel Bogey March of the new English prisoners led by Colonel Nicholson (Alec Guinness).  It's a subject which is returned to throughout the film as we view through Shears's eyes the utter futility of war; 'the kind of guts that can get us all killed,' he remarks as the honourable Nicholson attempts to stand up to the inflexible rule of the Japanese commandant Colonel Saito (Sessue Hayakawa).  Based on Pierre Boulle's 1952 novel, The Bridge on the River Kwai remains one of the great war movies and it's essentially a cautionary tale about the dangers of duty and honour and how these may deprive the individual of fundamental choice.  At opposite polar ends of this spectrum (for most of the film at least) lie Shears and Nicholson – the sceptical soldier who will do what it takes to survive versus the career officer who – by his own admission – has no real life outside the army.  The final confrontation which takes place between the two (prior to the blowing up of the titular bridge) is particularly memorable and brilliantly played by the respective Oscar winners.  'Madness!  Madness!' indeed in the immortal words of James Donald's Major Clipton.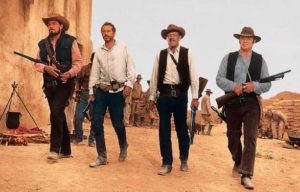 The Wild Bunch (Sam Peckinpah 1969)
Holden's career had been effectively stagnant for a number of years when he was cast in the lead role of Pike Bishop in Sam Peckinpah's 1969 epic western.  Years of alcohol abuse and the distinct lack of a commercial or critical hit had not helped the actor's cause, but he showed how much he could still offer apropos sheer screen presence and gutsy performing.  A western quite unlike any other up to that point in time, The Wild Bunch is an often vicious yet nostalgic study of a bunch of aging outlaws who are attempting to survive in a rapidly changing age.  The year is 1913 and Pike Bishop himself is all too aware of how the modern age is overtaking the world he once knew – 'We've got to start thinking beyond our guns.  Those days are closing fast.'  To this end, Pike and his gang (including actors Ernest Borgnine, Warren Oates, Ben Johnson, Edmond O'Brien and Jaime Sanchez) agree to steal a weapons shipment for a brutal Mexican general named Mapache (Emilio Fernandez).  It's an assignment which some of the men are far from comfortable with, but needs must as in Pike's own words – 'I'd like to make one good score and back off.'  In hot pursuit of the gang meantime is Pike's former partner Deke Thornton (Robert Ryan) – himself also a conflicted individual who has been hired by the railroad authorities to hunt Pike and his men down.  Controversial in its time on account of the graphic level of violence and bloodshed, The Wild Bunch is also notable for the stylistic flourishes which director Peckinpah brought to bear on proceedings.  Many of the action sequences – including the famously ferocious Agua Verde climactic shootout – were filmed employing several cameras operating at different speeds.  By his own admission, Peckinpah wished to highlight the savage nature of a world in which current camaraderies and previous allegiances count for very little.  The predominant theme of a way of life which is archaic and fast approaching its end is to the fore throughout and shot through with moments of poignancy and cruelty in equal measure.  A stellar cast – including Holden himself – serve as a perfect complement to Peckinpah's vision.  Ranked by the American Film Institute as the sixth greatest western in 2008, The Wild Bunch is indeed a western of the very highest order, but it also marks a distinct shift in tone for the genre in the mould of Sergio Leone's Once Upon a Time in the West and George Roy Hill's Butch Cassidy and the Sundance Kid which were released around the same time.  From William Holden's perspective, it provided the actor with a welcome return to form and demonstrated once again how considerable his skills were in front of the camera.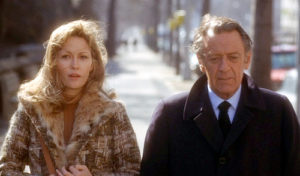 Network (Sidney Lumet 1976)
Peter Finch's Howard Beale – 'the mad prophet of the airwaves' – may be the performance that's best remembered from Sidney Lumet's 1976 satirical film, but, for me at least, Holden's work onscreen is the one which gives Network its heart and inherent sense of melancholy.  Holden plays news division president Max Schumacher, a man past his personal and professional prime who is all too aware of the impending dotage which he faces.  Forced to watch from the sidelines as his longtime friend Beale descends into madness and is exploited by the powers-that-be at the television network, Max begins an affair with the head of the programming department Diana Christensen (Faye Dunaway).  The relationship is ultimately hopeless owing to Christensen's utter emotional detachment, but Schumacher persists with it because it's his 'great winter romance' as in the words of his wife.  Realising that Diana has sold her soul to television, Max eventually leaves her in one of the film's most brilliantly played scenes courtesy of Holden – 'That painful, decaying love is the only thing between you and the shrieking nothingness you live the rest of the day.'  Rightly regarded as one of the very best films of the 1970s, Network is an absolute triumph for its multi-talented cast, as well as director Lumet and writer Paddy Chayefsky.  Winner of four Academy Awards, it's one of only two films to secure a total of three acting gongs (the other being 1951's A Streetcar Named Desire); Dunaway for Best Actress, Finch for Best Actor and Beatrice Straight for Best Supporting Actress.  Finch's 'I'm mad as hell, and I'm not going to take this anymore' speech may be the film's centrepiece and most famous moment, but, as I've already suggested, it's Holden's performance which resonates most especially no matter how many times you watch this superb film.  The great actor would go on to make only a handful of films prior to his untimely passing in 1981.  Network, thankfully, remains one of his very best and Max Schumacher is undoubtedly one of his most unforgettable accomplishments as an actor.