The Longest Day Soon Ends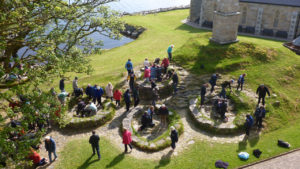 'Are you awake love?' Paula's mother asked her in a whispered tone. 'You know we're not allowed go to sleep tonight. We have to stay up no matter what. You have to do that much. It's not easy I know, but please try. It'll be all the more difficult for me if you don't.'
Paula shook her head and stretched her arms out as discreetly as she could possibly manage. Her eyelids felt as if they were at half-mast. Her willowy figure protested at the hard wooden bench. She pushed back her sandy-blonde hair and spoke through the narrow line her mouth had become.
'I'm sorry Mom,' she replied, 'I didn't mean to. I guess the drill sergeant wouldn't appreciate me catching forty winks.'
Her mother Ruth gave out a sniff-laugh at this. Then, adapting a more serious demeanour, she endeavoured a mild rebuke.
'You really shouldn't call the priest that name,' she told her daughter. 'He's only doing his duty. We all need a bit of discipline from time to time. He's here to remind us of that. It can't be such an easy job.'
'No, it certainly can't be,' Paula remarked. 'He must have a great distaste for it. Funny though how it doesn't show.'
The drill sergeant had addressed them earlier that evening. He was in his mid-fifties, had sharp features and a stony rigidity set into his face. His eyes were large and dramatic and he pulled back from the lectern several times as if wishing to observe the effect of his weighty words.
'It's not enough just to have come to this sacred place, you must also perform your pilgrimage as thoroughly as you can,' he intoned solemnly. 'That involves prayer and reflection over the course of the next two days. It requires a little strength of mind on your part. The foundation for it begins up here.'
He pointed to the temple of his head as he said this. Paula allowed herself a faint chuckle. He's so old-school with the harsh voice and flapping arms she thought. Are people really taken in by this? Can't they see through the theatrics? She glanced at Ruth and noticed how she appeared to be drinking in every word the dour cleric uttered. Paula grimaced ever so slightly. Her mother had never been the most pious individual, but in recent times it was as if she were intent on making up for this deficit. Paula imagined she understood why. She recalled Sunday mornings as a youngster and Ruth waking her up more than an hour before mass time. They would set off early because her father did the church collection at Carnacon where he was originally from. Kenneth Brady was not one for being late and he insisted that his wife and daughter not be the cause of any lapse on his part.
'Father Staunton wouldn't mind it so much, but I'd feel ashamed myself,' he explained. 'It's only once a week Paula. The faith is a good thing to have and it's important for each of us to do our bit. It will stand to you in the fullness of time. You'll see.'
Paula had certainly seen it over the years. She watched as her father did such thankless jobs week in, week out. At Christmas she admired the crib which Kenneth erected with a few other men in the locality. The figures were near life-size and he had donated them exclusively out of his own pocket. The same at Easter with the crucifix he helped carry into the church on Good Friday. He had lots of menial jobs delegated to him by the busy priest, but never found cause to complain. There was an unremitting sense of duty which Paula both admired and pitied him for. She wondered where it had stemmed from. Had he always been this way? Was it a nature or nurture thing? And what had brought him and her mother together? What was the early attraction between them? They were such opposites and yet there was no doubting the affection they had for each other. Ruth was of a more worldly frame of mind. She could hardly claim to understand her husband's devotion to some of the saints and holy figures such as Padre Pio. The Italian friar and stigmatist had a particular appeal for Kenneth. Twice during his life he'd visited San Giovanni Rotondo in Foggia. He'd also been to other religious sites in Europe such as Lourdes, Fatima and Assisi. Ruth never travelled with him to any of these places. She preferred the comforts and conveniences of a Paris or a Milan. Nor did she entertain the notion of Reek Sunday which Kenneth completed every year without fail. He'd been planning to make the pilgrimage to Saint Patrick's Purgatory when the illness intervened. Talking him out of it had not been an easy thing. Ruth – a ward nurse – had depended on the medical facts for her reasoning. She asked her daughter to back her up as regards the personal worry it might cause her if he were to be headstrong and carry it through.
'Think about Mom,' Paula had implored as she saw the first signs of his deterioration. The cancer spread fast and, before long, she was hearing terrible words such as metastasize and palliative. She couldn't help but think of what a cruel fate this was. A good, honest, upright man who'd performed above and beyond and, in spite of this, God or some other being had decided he should finish his days in this way. The only saving grace was he'd passed away at home. Her mother had made sure of this. She personally tended to him right to the end. Kenneth had died on the 2nd June, a year to the day when they arrived at the near-full lakeside car park and caught the ferry boat across to the island. The idea to come here had been Ruth's, eager as she was to mark his anniversary in some meaningful way. Paula had reluctantly agreed and made the booking using her Mom's credit card. A Wednesday in early June she contemplated as someone called Marion took her details over the phone. Having no major plans on the horizon, she realised there was no plausible excuse she could fall back on. She wondered what the weather would be like on the island; how the conditions underfoot might be for them both.
'Neither myself nor my Mom have done anything like this before,' she told the woman on the other end of the line. 'How difficult is it? Do injuries ever occur?'
'How old is your mother dear?' the soft Donegal accent enquired. She sounded as if she were well used to such questions. Well versed in the proper responses as well Paula thought.
'She's in her late-fifties,' she replied.
'No major health issues?'
'No major health issues.'
'Then she should be fine dear. Many people of her age group do the three days. Older ones as well. No need to be concerned. There's medical assistance on the island if it's required.'
'My Mom's a nurse,' Paula blurted out.
She parsed her words immediately wondering why on earth she was revealing this information. What significance can this possibly have she asked herself. It's neither here nor there to Marion of the melodic brogue. An image of a genial middle-aged woman from somewhere like Ballyshannon or Buncrana popped into her head. A statement like this must sound really silly she imagined. Marion can afford to have a laugh at my expense. It's the sort of thing I'd make fun of if I had the chance.
The telephone operator betrayed no such reaction, but instead continued with her level-headed advice.
'Your Mom will appreciate the facilities which are on the island in that case,' she said. 'There's no need for worries on your part. She'll be just fine. Don't stress about it. Enjoy the visit the both of you.'
Paula sat up more alertly in her seat as she gathered her thoughts. The night shelter at the back of the Basilica was jam-packed. A drone of faint praying and varied observances hung in the shadowy air. To her immediate left was a young man in his mid-twenties who also seemed to be wilting at this very early stage. Ruth, on the other hand, was full of beans, alive to the task ahead. Stealing a quick peek at Paula's neighbour, she leant in closer for the sake of privacy.
'Would it help you if we went outside for a while?' she proposed in a sustained murmur. 'We could walk around the Basilica a bit. It might help ward off the sleep for us both.'
'Are you sure we're allowed?' Paula asked.
'Of course we are,' replied Ruth, 'people have been coming in and out since before midnight. Didn't you notice?'
Paula looked over towards one of the entrances. Indeed, there was a steady trickle of bodies passing through it, the majority of them doubtlessly wandering out for the succour of the night air. From the corner of her eye Paula caught a glimpse of the drill sergeant once again. He looked as if he were on the prowl. Most likely on the hunt for weak links such as myself she supposed. Nodding her head, she pulled herself up with a little effort.
'Not a bad idea Mom,' she whispered. 'Let's chance it so. What's the worst thing that could happen?'
The air rushed around them in soft folds as they emerged into the early morning. 1.45 a.m. and the veil of darkness resting over Station Island felt more like November than June. They joined the many others making the stations around the oblong building. The torrent of low voices rumbled dimly in Paula's ears. She felt her mother's arm slip inside her own. Ruth's stubby fingers were warm, as always, offering a modicum of comfort. Her luxuriant charcoal-grey hair was neatly combed and brushed against Paula's. She had perpetually dark-brown skin from the many hours spent in the garden. She tended to dress more elegantly than her daughter who had no real sense of style despite her good looks. Bearing in mind Marion's recommendation that they have suitable attire, Paula had packed for them both. She'd never trusted her mother with such matters and regularly questioned Ruth's sense of practicality. It wasn't the Maldives they were going to she pointed out as her mother examined the contents of her light bag. A difference of opinion about the jacket Ruth should wear was resolved by the simple expedient of a coin. The older woman had won the toss. She was happy now that she'd got to bring the smart pea jacket as opposed to the dull raincoat. The weather was settled and dry, far from the deluge her daughter had been anticipating. Paula has become such a naysayer of recent she thought. Sure who's going to mind what I wear. Most of the people here are focused on the one thing and the one thing only. She directed her own mind to her late husband. She wondered if Kenneth might really be seeing them in this moment. Shortly before he'd passed away, he'd promised to keep a watch over them. Would he be impressed by their efforts? Or laugh at the good of what his anniversary had driven them to? In any event we're here and doing this for you she mouthed to him in between her Hail Marys. But, of course, Kenny there's another reason as well. If you have been watching, then you'll know what I mean. She genuinely hoped there was life after death as he'd always believed. It made her feel better thinking he might still be around them somewhere, paying attention; conversant perhaps with their present situation. At least know it for what it is Ruth thought to herself. At least understand that I didn't oblige her to come home. She did that because of circumstances; a few matters that turned on her in the last twelve months.
Paula for her part had her thoughts firmly centred on how this day would end. She imagined 10 o'clock later on that evening. The final service of this marathon vigil. And then the glorious prospect of sleep. Calmly, she'd take her mother's hand and lead her back to their dormitory room. They'd gone there on their arrival and found a metal-framed bunk bed in a tiny cubicle. A quip about the Holiday Inn had occurred to her, but she'd decided to keep it to herself. Spartan or not, it will more than do after all of this she told herself. The first inkling of what lay ahead for them came to mind as they removed their sandals. Paula's feet felt tender as she tested them on the standard parquet. She hoped there were no slivers of glass outside. Peeping furtively at her Mom's, she observed how pink and vulnerable they also looked. I really hope there are no surprises for us out there she thought. I just want to get through this and go home. It's as simple as that.
They leafed through the booklet of prayers they'd been given at the visitor centre. She noticed the Apostles' Creed and tried to remember how exactly it went. The words seemed unfamiliar all of a sudden. She wondered if there was a particular rhythm to it which Miss Prunty had taught them in primary school.
If Filip were here now, he'd reel it off in Polish and English she supposed. It's small wonder himself and Daddy got on so well with their chats about the Black Madonna in Częstochowa. I wonder what the 2nd of June is like in Wroclaw? Does he even realise what day it is today? Well, hypocrite if he doesn't. At the very least he might say a prayer for him too. I would if it were one of his people. And I've got no great depth of religion. But then it occurred to her. Neither had Filip. He pretended too. Just as she was now doing.
Early light of this second morning on the island and she found herself back amongst the penitential beds. Same as the day before she told herself; as per the instructions given. Three times around the outside and then three around the inside.
St. Patrick's was the first of the monastic cells she negotiated. Kneeling at the cross in the centre, she realised how far behind she was on her stations. The booklet had directed that nine were to be said in total. The drill sergeant had reiterated this during his homily to them. More like a diatribe thought Paula. A flood of words to have the desired effect. Whispering a few quick prayers to herself, she moved on to St. Brendan's Bed. A rather delicate-looking woman in her forties was hugging the rugged stone cross there as if it were a relative she had not seen in years. On no account am I doing something like that Paula said to herself. Even if I was a Holy Joe or something. Even if I believed it might somehow bring you back.
Her agent Donal had questioned her about it just three weeks before. His voice on the phone was tight and concerned, something in it she had not heard previously. The manuscript for this, her second novel, was well below par he told her quite frankly. She couldn't string some ideas together and expect it to be picked up just because her first book was a modest success. Things in the publishing world weren't quite as straightforward as that. She would have to appreciate this. The cliché that you're only as good as your last was quickly segued by the crux of the matter as he was perceiving it.
'Look I'm a little bit worried here if the truth be told,' he said with subdued emphasis, 'this isn't just a case of you gone off the boil temporarily; it's as if you've lost your voice entirely. Are your circumstances the same since we last spoke?'
She told him that they were.
Donal's response was a series of hums and haws, then he became more candid again.
'Well I think you've had a lot on your plate in recent times,' he said, 'and it's clearly having an effect on your work. It's one thing to have your Dad pass away, but then as for that other matter…'
In a laconic response she thanked him for not being precise about it.
'Well you were the one who told me not to mention him by name,' he reminded her, 'but it's best for me to be no-nonsense about this. The work-in-progress you've given me is anything but a work-in-progress. Meaning that it doesn't work on any level. If I were you, I'd consider taking a time out. Rediscover that voice of yours like I said. Find your feet again.'
She was having difficulties just getting to them at this exact moment in time. At St Brigid's Bed she knelt for a bit longer than she should have done, and then found that standing up was not so easy. Her legs were rickety. For a moment or two she was unsteady in her posture and had more than a few kinks to shake out. The matter of her age crossed her mind as she moved on to the next cell. In a few weeks she'd be turning 33. The years behind didn't matter so much, but she wondered at the ones which stretched out ahead of her. A single woman returned home and living under the same roof where she'd grown up. Just like in Italy she thought, like the bamboccioni. She'd seen a funny picture on the very subject a short time before. A moustached man in his thirties was seated between his elderly parents. He wore an exaggerated smile. They looked somewhat discommoded. Is that me she wondered to herself. But minus the ridiculous smile. And without one of my parents.
She heard a discreet cough behind her and knew it to be her Mom's. Ruth was looking a little dishevelled now. The gloss of the venture she'd set for herself seemed to be wearing off. She felt a dull pain in the small of her back, but decided not to ask Paula if she'd brought any paracetamol with her. Foolishly, she'd left her own supply in the car. Her feet were playing up as well, but she dared not examine them. More than a few grazes by now she surmised. But keep on going. Get to the end for your sake and for hers. This is part of the pilgrimage, part of the ordeal that priest was talking about.
Smiling bravely at her daughter, she managed an ostensibly cheery attitude.
'Penny for them,' she said.
'Sorry?' Paula answered.
'Your thoughts love,' Ruth said, 'you look steeped in them just now. Anything in particular? Are you finding the peace and quiet helpful?'
To Paula's mind she put an exaggerated simper into the question. She frowned and tried to puzzle out the reason for this. She felt tired of the interference. It wasn't the first time in recent weeks. Her stomach coiled at the thought of food. A smidgeon of annoyance leapt to her mind, a faint tone of derision passed her lips.
'Sure Mom,' she replied, 'my imagination-mill is hard at it with all this penance and isolation. I've already got a new novel outlined in my head. It's called sackcloth and ashes and the modern girl. Catchy title, eh?'
Ruth surveyed her with a disappointed glare.
'There's no need for the sarcasm Paula,' she said, 'I'm just asking you how you are. It's the only question I ever really ask. I know how private you prefer to be. You don't volunteer much in the way of information. You never have.'
'Information such as what Mom?' Paula asked, conscious of the exasperation sounding in her voice. 'Do you want to know my innermost thoughts? You might not appreciate everything that goes through this noggin of mine. Remember how you didn't like the story behind Designated Driver? Well I'm cooking up something along similar lines, so watch out. I think all this talk of purgatory I've been hearing has put me in that place. And you know how us writers like to be au fait with our subject matter.'
The words appeared to strike at Ruth from behind. Her face was unsettled and pink. She reached for a different tack. Anything so that they might not have an argument in this holy place.
'I think a city break later this summer might do both of us the world of good,' she suggested. 'We could go to one of those off-the-beaten-track capitals. Tallinn perhaps. Or Bratislava. That part of Europe has opened up so much in the last few years, hasn't it? Your father often spoke about going there. That place in Poland especially. The one that…you know…your ex-boyfriend told him about.'
Paula felt her mind grow sullen and heavy. A deep flush came to her cheek. The shape and contours of this conversation were achingly familiar to her of recent. Nodding solicitude and vague expressions of interest which she did not care for. Am I to report to you on the present state of my life she wondered. Are you trying to push beyond some impasse that you imagine is between us? Or perhaps you see this sacred trip as an opportunity for ablutions for us both. Well the water is just a short distance away Mom. You can saunter down there and perform the ritual to your heart's content. But leave me out of it. In fact, just plain leave me alone.
Exhausted and wary, she felt like spreading out her hands in a hopeless gesture. Stop it she thought. Stop all this pretence. The mock religious impulse, your sudden concern about my well-being. That was Daddy's responsibility. It was what he did so very well. You simply didn't want to know. You always said that I made the wrong choices. With my career. With my men. Your life lessons were crude and disjointed. Just like your own principles and beliefs. Perhaps you never knew what you really wanted for me because you didn't know what you wanted for yourself. A much darker notion dropped into her head just then. Does it give you some pleasure that I've failed in my personal affairs she wondered. And that my professional life isn't so hot at this point either. Is there a monstrous condescension behind your enquiries Mom? Are you expecting me to break down in some deluge of self-pity? Well I won't. I can't. It's not in my make-up and you should know that.
Her throat tightened to a fist. Her whole body became tense. She no longer attempted to stifle the exclamation of her tetchiness. It came out in a jagged swell of temper.
'The place was called Częstochowa,' she said with no little force. 'His name was Filip. And he wasn't a boyfriend, he was my fiancé. Why can't you recognise him for who he was Mom? I was going to marry him. We were going to have a life together. Then this little country of ours went down the drain. You do remember that Mr. Chopra and his band of merry men coming to town, don't you? Well, Filip's business hit the wall like so many others. He didn't want to stay because he had too much pride.'
Ruth shook her head in disagreement.
'I don't believe that and neither do you,' she said, 'if he'd truly loved you, then he would have stayed on, he would have found a way. The truth of the matter is that when the going got tough, he deserted you. Which was a very unfair thing to do. Especially since your father had just passed away. That's not how a man should treat his future wife. You were lucky you didn't marry him. It's a terrible thing to say, but I'm glad you didn't marry him.'
Paula decided she had enough of this. Walking past her mother, she stated that she was going on to the next penitential bed.
'Please don't bring this up again,' she said. 'Can't you see that I'm trying to move on? If you want me to have peace and quiet here, then stop being so intrusive. It doesn't suit you Mom. It's not your fashion.'
At midday she found herself at St. Davog and St. Malaise's Bed. That's a little inequitable she thought – all the other saints get their individual plots and these two have to make do with sharing the one. What did they do to deserve that? Were they not worthy enough for some reason?
The sun was strong and brimming with mischievousness. She reminded herself not to stay out in it for too long. Purgatory burns with its flames and so does this sun with its devious rays she thought. And I could live without that messy aloe vera gel. The jar was in the car on the other side of the lake along with her mobile phone. She wondered if she had any messages, if anyone was looking to reach her. Once more her mind drifted and she began to think about him. The first time they met was also the occasion of some glorious weather. Munster were playing a French side at Thomond Park in early September. She was there with some girl friends as part of a hen party. A little bit under the influence, they were checking out the players' legs as much as the action on the pitch. From the corner of her eye she spotted a tall, lean man with a sallow complexion. Filip had a slow-fashioned grin and bright blue eyes. He waited cautiously at the edge of the crowd in order to speak to her. She liked this approach of his, tired as she was of being chatted up in heaving bars by well-oiled men. His compliments were oblique, but she found this most endearing, as well as his heavily-accented voice. When he asked her out she accepted, but did so in a long-drawn-out manner. She enjoyed playing games like this, had always derived a wicked sense of pleasure from it. They met for dinner in Limerick City and began to see each other. A proviso she insisted upon was that they take things at a snail's pace and agree to wind it up if either were having problems with the travel arrangements. Quite soon this was solved when they moved in together in Galway. It was a happy medium as far as she was concerned. She was writing Designated Driver and could focus entirely on the novel. Filip was on the road a lot of the time with his work. Sometimes he was unable to make it home at night. That suited her also. She wrote many of the best passages when she was by herself. At her book launch she jokingly thanked him for staying out so much, for keeping his distance whenever it was clear she needed him to do so. Looking back on it, she realised this might not have been the best thing to say. It was no way to pay tribute to you she thought. It sounded as if you weren't needed, that I could easily get on without you. A few days later he asked her to marry him. The engagement was short-lived though. Problems at home and in the wider world overtook them. Her father became seriously ill. The bottom fell out of the Celtic Tiger. They both struggled in this new and very different terrain. Filip encountered set-back after set-back in his business. Paula discovered the impediment of writer's block in her own. With her father worsening by the day, she went home for a short period of time. Ruth needed her. Even though she wouldn't admit it, she couldn't do everything by herself. After the funeral Paula remained on a few more weeks to help sort out the will and financial intricacies. Her mother had no head for this she knew. Ruth had never had an appetite for details or figures. She'd always entrusted such matters to Kenneth. Now she seemed quite content to delegate responsibility to her daughter as well. In an unforeseen way it brought her to the truth of what Filip was planning for himself. Returning late one night to their cottage, she chanced upon some papers of his as she tried to find an answer to one of Ruth's quandaries. There were items amongst these relating to the dissolution of his business. Worse was to follow. The next morning there was a phone call from the letting agent. Prospective tenants would be visiting the property later that week he informed her. They should have it clean and presentable, as per the terms of their lease. She confronted him when he came in a few hours later. The truth came out in a most excruciating way. Filip did not deny anything; nor did he soften the blow for her. Yes, he was leaving the country very soon. Yes, their engagement was over. He'd been intending to tell her, but she was away so much of late. He agreed that the timing was absolutely dreadful. But it was also necessary he said. With his enterprise gone bust, and many of his close friends already returned home, he felt no great desire to stay. He admitted he no longer loved her. She questioned if he ever really did.
'I loved the girl who seemed as if she wanted to be loved,' he replied. 'And you were her in the beginning. It was like in your novel. The first few chapters were wonderful, so full of colour and…'
She told him to stop talking right away and left abruptly. On the drive back to Breaffy she texted him for a convenient afternoon when she might pick up her belongings. The words she added at the end of the text were as clear-cut about it as she could be: 'Make sure you're not there when I call!! If I see you again, God help me, I'll scream!!'
She had screamed many times since then. About him. About the book she was failing to make headway on. The garage on a windy day was a good place for it. She could be as loud as she wanted. Ruth could not hear her. No one could possibly hear her. The fact of their break-up was something she knew she could not keep secret forever. But as to the ins and outs of it, she decided to be economical with the truth. After all she figured, I'm a writer; there are certain things I can make up. She felt a shame regarding it which she did not wish to share. Even with her oldest friends from school. The ones she saw every so often at the Shamrock Bar. And most especially with her mother. Ruth had not said much at the time. But Paula was quite certain of something. She doesn't believe me she thought. She never liked Filip at all. Now she imagines this proves her right. In view of this, she persisted with the lie. It was the preferable explanation, the more appropriate narrative. Blame it on other things she told herself; external forces such as the paltry state the country has found itself in. Lots of people were doing just that – politicians, industrialists, analysts, talk show hosts, mothers and fathers, husbands and wives. Everybody was intent on finding a scapegoat. The economic situation was a perfect fit. She could lower her head and tell them how hard Filip had worked; how much time and energy he'd invested. And then it all came to naught. His business was devastated like countless others. The sad story ended with him on a flight back to Poland, back home to Wroclaw. She hadn't heard from him since then. Which was probably for the best as she told them, as they agreed with sympathetic looks. There was lots of heartbreak out there. Much too much. The calamity had spread through lives as wildfire through sagebrush. She was not the only one. She was not alone.
At the water's edge she asked a woman younger than herself for a cigarette.
'I gave these up three years ago and now I'm utterly gasping for one,' she explained on the spur of the moment. 'What kind of deal is it with this place? You leave off one thing and it drives you to something else. Is it all just a cruel joke?'
The pretty blonde with high cheekbones and velvety voice laughed in response.
'Have you been roped into this by someone as well?' she enquired growing more serious. 'I came with my boyfriend. He's off at one of those beds making out as if he's a born-again. The thing is though he's a complete hypocrite.'
Paula nodded as she accepted a light.
'Is he of a holier-than-thee bent of mind?' she asked exhaling with a dry cough.
'Anything but as a matter of fact,' the other woman said as she glanced around furtively, 'last year he did something really bad, something only I know about. He swore me to secrecy. I shouldn't have agreed to that. It's taken me until now to realise as much.'
'Oh dear,' replied Paula as she inspected her more closely. To her eyes the younger woman was well-to-do and most definitely cultured. She looked like the type who chose city breaks over beach holidays and watched films with subtitles. The perfume she was detecting through the wafts of smoke was not cheap either. Smells like a Dior or a Lancôme she guessed. Nothing counterfeit about that.
'Can I ask you a personal question?' she asked.
'Go right ahead,' replied the other woman.
'What brought you here to begin with? Forgive the observation, but you seem to be doing this against your better judgement.'
'I am,' she said with more than a slow drift of annoyance, 'and quite honestly I don't know why I came. But I can tell you one thing for certain – as soon as we get back to the other side, I'm telling him it's over. I don't care how he takes it. He can beg. He can promise me the sun, the moon and the stars. I can't be with him any longer because of what he did. And then how he covered it up. He seems to think coming here will make up for it. Like some sort of amends. But it won't! He should have done the right thing a year ago. That would have been his proper penance. Instead of this sham. Nine stations won't set things right. Ninety-nine wouldn't even come close.'
She took one last drag of her cigarette and flattened the remainder of it into the ground.
'He even had the nerve to suggest I give these up,' she muttered, 'for the sake of my health or so he says. Well he won't have to worry about that for much longer. I'll be better off without him. The only trouble though is my own conscience…'
She flitted a glance at Paula.
'You're not a Ban Garda by any chance, are you?' she asked.
Paula laughed at this in a short chuckle.
'Do I look like a Ban Garda to you?' she said.
'I don't know,' said the other woman, 'but I wouldn't mind if you were. I think I need to tell someone else about it. I'm tired of keeping his secret to myself.'
A flash of what was in the back of her mind suggested itself to Paula. Curious as she was, she felt a strong flutter of apprehension. Looking off towards an imaginary point in the horizon, she tried to figure out what to do. I'm nothing more than a stranger to you she thought. Why would you take me into your confidence like this? Is there something in my face or what I said? And just how serious is this thing? Why do you want to tell it to me? Do you imagine I'll know what to do? You'll probably be disappointed. These days I hardly know what to do myself.
The movement of an approaching figure caught her attention then. She watched as the other woman summoned a feeble smile for him.
'This is Danny,' she said with regard to a tall young man who was dressed workaday casual. He had a pleasant enough face, but his chin was nicked from shaving and his eyes were red from the lack of sleep. A strange, tight greeting passed between them. He smiled in a hazy, hopeful way. She nodded in passive agreement as he spoke.
'I think Rachel will be relieved when we finally get off the island,' he said in a hoarse whisper, 'she likes her comforts way too much, don't you sweetheart? We're planning an expensive meal to break the fast tomorrow night. Do you have any plans for it yourself?'
Paula shook her head in reply.
'Not really,' she said, 'I'll get my Mom home and see what's what. If I don't collapse first, I may have a Bushmills or two. Either way I'll be unconscious by the wee small hours. It's a finale I'm looking forward to.'
They chatted mechanically for another minute or two and then said their farewells.
'Perhaps we'll run into one another sometime on the other side,' Danny said in a good-humoured manner. 'We might even make it out west this summer. It was nice meeting you Paula. Go easy on the Bushmills when you get back to Breaffy.'
They turned and begin to walk away. He slipped his arm around Rachel. She accepted this at first, but then, appearing to think better of it, returned to the spot where Paula was still standing.
'I am going to go through with this, just in case you think that I won't,' she breathed emphatically. 'It's important to me that you know. I found excuses too easily before. But not any longer. At least coming here has done that much for me.'
She passed Paula a second cigarette and said goodbye once more.
'What doesn't kill you makes you stronger, right? I know I'm doing the right thing. I don't need religion for that.'
At the agreed hour of 5p.m. she met Ruth in the functional-looking canteen. They both took black coffee and oatmeal crackers. Paula munched noisily on hers. She noticed that Ruth was much quieter in herself. Is she tired-out the way I am she wondered. I've felt like this all day. How must it be for her? She looked down at her mother's feet and saw how badly cut and bruised they were.
'They don't look too good,' she observed. 'It might be an idea to go to the first-aid station. Are you in pain? Is there anything I can do?'
Ruth waved away the offer with affected lightness.
'There's no fear of me,' she declared in an overplayed tone, 'sure we still have a few hours to put down. I'm not stopping now. I'm determined to finish this straight up and on my two legs. With vim and vigour.'
Paula inclined her head with reservation.
'Let's just concentrate on finishing, shall we?' she said. 'No one is expecting you to take part in Gaelforce after this.'
She considered the idea of telling Ruth about the young couple she'd run into near the lake. Outside, the brightness of the sun had moved on and there were a few shadows beginning to fall. Paula wondered where they might be now. Would the girl end the relationship as she'd sworn to do? Did the fellow have some intimation of this? What had he done in the not-so-distant past? Would he make good on it if she asked him to?
Ruth's weary voice piped up.
'I'm thinking of going back to work,' she said. 'To the hospital most likely. Or perhaps I could try my luck in the private field. You know…as a carer.'
Paula raised her eyebrows at this.
'You mean looking after elderly or incapacitated people?' she asked.
'That's right,' said Ruth as she warmed to the subject, 'sick as he was, your father joked about it saying I'd found my true vocation taking care of him. What do you think?'
Paula folded her arms and sat back.
'I think you did a wonderful job with Daddy,' she said. 'You made him comfortable at the end and you did it without robbing him of his dignity. He was grateful for that. He told me so. We had a talk one day while you were out. He said he was happy with his life; with everything it had brought him. To be honest, that made me sort of angry.'
'Why?' enquired Ruth.
Paula took a deep breath and puffed out her cheeks.
'I asked him how could he be happy with the last part of it,' she replied. 'I was being far too frank as usual. I told him the disease was something terribly unfair as far as I was concerned. You didn't deserve this I said. How can you be so accepting of it? Naturally, he had an answer for me. You can imagine how lengthy it was. Like one of his sermons as I used to call them.'
Ruth's drained face puckered itself into a smile.
'You probably were in need of it,' she said. 'He didn't always get through to you, but it wasn't from the lack of trying. He asked me to do the same. I can't help but feeling I'm making a pig's ear of it. I don't have the conviction he had. Falling between two stools is of little use to anyone. Especially you. You're so like him Paula. You have your robust streak just as he did. Me – I'm more middle-of-the-road. I always have been.'
A deep fervour suddenly glowed in her whole aspect.
'But I would like to go back to work,' she said. 'I do want to be of use again. I hope there's something for me somewhere. In spite of the mess this country's in.'
Paula nodded pensively and dropped her voice to a low whisper.
'Of course Mom,' she said. 'Don't worry. There'll be something for you somewhere. There's something for everyone. Daddy would say as much.'
Across the table from them a fellow pilgrim in his sixties with weather-beaten features and a protruding upper lip gave out a hoary cackle of a laugh.
'By God ladies ye both look as if ye've been through the mill,' he remarked in what sounded like a Wexford drawl. 'Tis a long day indeed, but, same as any other, it comes to an end as well.'
Nodding at the wisdom of his words, he stood up and patted the palms of his hands.
'Hold even ladies,' he said, 'that's all any of us can do here; in this day and age. Hold even and God will be good.'
He walked away then continuing to talk to himself.
'God will be good,' he said, 'the earth is the Lord's, and everything in it, the world, and all who live in it; for he founded it on the seas and established it on the waters…'
They watched him disappear out the door and out of sight. Paula finished her coffee in a quick gulp. Ruth discarded her remaining cracker.
'You know at the very least I think we're providing your father with some entertainment,' she said. 'He'd never have imagined you or me doing this. If he's looking down on us, he must be doubled up by now. Which is good. If there is a next life, I do hope there's laughter in it. Because that would mean there's happiness as well. Wouldn't it?'
At the end of the day they sat through the final service in the Basilica. The drill sergeant was holding court once again, but now he was more laudatory in his tone. They'd done well so far he told them, allowing a glimmer of a smile. Just a small push more and they'd have a spiritual achievement to be proud of. The responses to his prayers were faint and silvery by now. Bodies were prostrate, minds woolly. Paula inspected the general state of bleariness around her. She felt fully awake all of a sudden, as if getting a second wind. It brought with it a peculiar exhilaration. Reaching out, she caressed her mother's hand for no apparent reason. Simply that you're here and I'm next to you she thought. That's motivation enough for me. It's what I'd have one of my characters do.
A pleased expression flickered across Ruth's face. In place of speech, she nodded her head. The tiniest flinch then gave away her discomfort. She considered one final brave show for her daughter, but quickly gave it up.
'Do you suppose we could leave now?' she said in a hushed undertone. 'Before everyone else? I'm badly in need of some rest.'
'Of course Mom,' Paula said, 'it'll be easier if we get a jump on the traffic. No harm in doing that.'
'Are you sure he won't mind?' Ruth asked her with reference to the priest. 'He doesn't look like the sort who tolerates quitters. We might earn ourselves a rap on the knuckles.'
Paula expelled her breath in a pharmaceutical-like calm.
'Well let him if he does,' she said. 'I'll have an answer back. My Mom has done her best here today. And it's been a very long day. Now she's tired and she wants to go to bed. That should be good enough. You can't ask for any more than that.'
Outside, the night had come down gently. A cloudlet dimmed the moon overhead as they emerged from the building. They walked deliberately towards their lodgings, picking their way ever so carefully. Ruth was lopsided in her carriage; every other step she took faltered a little. Her eyes squinted with the effort. She inclined her frame in towards Paula. The younger woman hooked her arm around her back. Then she firmed her grip in reassurance.
'Not far to go now,' she said with quiet tolerance.
She looked covertly at her mother.
Ruth's head was lowered, her skin was taut and pale. She smiled wanly. The words from her mouth were sunken to a drone.
'That's good love,' she said. 'I hope you don't mind this…having to see me back to our room this way. It's not one of my finest moments.'
Paula waved this away at once.
'I don't need to see anything remarkable from you Mom,' she answered. 'I've already seen you at your best. That was last year. In another place.'
Ruth's voice came back measured and appreciative.
'Thank you love,' she said giving her daughter a tender squeeze. 'You don't regret coming here, do you? You dropped few signs of interest in it. I guess I forced you in my not-so-very subtle fashion. The truth is I thought you needed something like this, after everything that happened. With Daddy. And Filip as well. They're both gone now, but I want to see that other part of your life claiming you again. I really believe you can get back to the writing. No matter what you say. Maybe a day like this can help. I hope it can.'
Beside her in the darkness there was a jiggling shrug of the shoulders.
'Who knows Mom,' Paula said with the music of a pleasant laugh. 'Stranger things have been known to happen. Struck off from the path as I am, I think I might come by that one great idea yet. Thanks to a bit of luck perhaps. The kind I had before. Daddy would understand it. He'd call it faith by a different name.'
In their cubicle she helped her mother into the lower part of the bunk bed. Ruth slid under the frayed sheet. They exchanged a quick kiss. Paula climbed up to the one above her. She listened as her mother shifted this way and that before falling asleep. There was noise when the other pilgrims got in a short time later. Paula heard uneven steps and snatches of muffled conversation. Voices were depleted, responses kept to a minimum. There was no animation or buzz in the air. Like herself and her Mom the overriding feeling was one of relief. Soon there would be a common sleep amongst them.
The lights went out before long and their cubicle was drained of colour again. The last of the sporadic talking died quickly into snoring. Paula listened acutely for Ruth's breath. It strained her nerves a little when she couldn't hear it. She panicked then when it came in quick, short gasps.
'Mom! Mom! Are you ok Mom?' she whispered loudly.
Dropping down to the floor, she peered in at the figure in the bed. She considered shaking her awake.
'Mom!' she worriedly said again. 'Are you all right?'
A faint, fleeting smile met her in the darkness. Ruth's voice came up, sounding manifestly gratified for the concern.
'Of course I am love,' she replied. 'Now go to sleep like a good girl. It's getting late. Tomorrow's not far off. And you and I know we have things to do.'
THE END