Jack Nicholson Turns 80 – 10 of His Best Films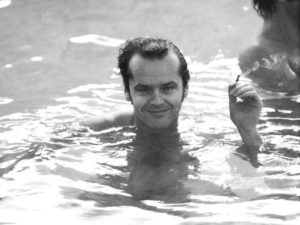 Jack Nicholson turns 80 on the 22nd April 2017 and we mark the occasion by fondly recalling some of his very best films and memorable screen personas.  Born in Neptune City, New Jersey in 1937, Nicholson's rise to cinematic prominence was not exactly the most conventional of such journeys and the actor had to toil in relative obscurity for many years before his big break came along at the very end of the 1960s.  He first came to Tinseltown in 1954 at a relatively tender age, taking a job with animators William Hanna and Joseph Barbera at the MGM cartoon studio.  An overwhelming desire to become an actor informed his decision to train with a group called the Players Ring Theater and, following this, came a number of small parts on both stage and in television.  He made his big screen debut in the 1958 cult film The Cry Baby Killer, produced by the legendary Roger Corman.  The Pope of Pop Cinema subsequently directed the aspiring actor in 1960's The Little Shop of Horrors, 1963's The Raven and The Terror and 1967's The St. Valentine's Day Massacre.  Other films during this period included Ensign Pulver, Ride in the Whirlwind and Hells Angels on Wheels.  But stardom appeared to be eluding him all this while and frustrated that the required breakthrough had not come his way, Nicholson tried his hand at writing on projects such as Roger Corman's The Trip and Bob Rafelson's Head (starring The Monkees).  The former film, from 1967, brought Nicholson into closer contact with its stars Peter Fonda and Dennis Hopper and fortune finally smiled upon the actor when a role opened up on Hopper's game-changing 1969 road movie Easy Rider.  A commercial and critical smash hit, the film benefited Nicholson's career most of all and he secured his first Oscar nomination playing George Hanson, a softly-spoken civil liberties lawyer with more than just a passing predilection for the bottle.  The early 1970s was a most fruitful period of time for the actor.  There were wonderful performances in Rafeslon's Five Easy Pieces and The King of Marvin Gardens; he won Best Actor at the Cannes Film Festival for Hal Ashby's The Last Detail; 1974's Chinatown – directed by Roman Polanski – still enjoys and deserves its reputation as one of the very epitomes of not just new Hollywood but American cinema in general.  And then, of course, came 1975's One Flew Over the Cuckoo's Nest which swept awards season that same year and won for its leading man Best Actor at the 48th Academy Awards.  The remainder of the 1970s was somewhat patchy following this huge success (The Missouri Breaks, The Last Tycoon, Goin' South – which he also directed), but the early 1980s returned the actor to form with indelible turns in Stanley Kubrick's The Shining, Warren Beatty's Reds and James L. Brooks' Terms of Endearment.  The latter film won him an Oscar for Best Supporting Actor and further works from this decade which are of note include The Witches of Eastwick, Broadcast News, Ironweed and the smash hit Batman from 1989 (in which he went over the top and then some as The Joker).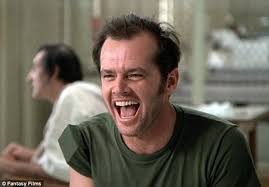 He directed and starred in 1990's The Two Jakes, a sequel to Chinatown penned by its writer Robert Towne.  The film did not fare well box-office-wise, but is nevertheless more than just an interesting footnote in his oeuvre.  Other works from this decade which fans will be familiar with include 1992's A Few Good Men and Hoffa, 1994's Wolf and 1995's The Crossing Guard.  Towards the end of the 1990s he re-teamed with writer/director James L. Brooks to great (and Oscar-winning) effect with As Good as It Gets.  The noughties saw some other fine efforts such as 2001's The Pledge, 2002's About Schmidt and Martin Scorsese's 2006 The Departed which triumphed at the 79th Academy Awards.  A few comedies during this same period include Anger Management, Something's Gotta Give and The Bucket List.  The actor hasn't actually made a feature film since 2010's How Do You Know (also written and directed by Brooks, but with far less critical or commercial success).  The recent news that Jack has been signed on for the American English-language remake of Toni Erdmann opposite Kristen Wiig is a cause for some celebration.  It would be wonderful to see this magnificent actor return to the screen with yet another one of his versatile turns.  At the time of posting this blog Paramount Pictures has yet to attach a writer and director to the project.  But one can only imagine how well Jack might fit in this story of a practical-joking father seeking to reconnect with his career-oriented daughter.  We await more details with much anticipation.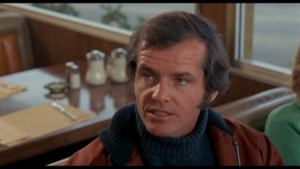 To mark Jack's 80th birthday, and his many decades in the film business, I've selected 10 films below which feature the great man himself in either starring or supporting roles.  Some of you may argue with my inclusions and bemoan the ones which I've left out, including the aforementioned The Last Detail.  With respect to the Hal Ashby film, I would point you in the direction of another blog I posted just a few weeks ago on this very subject.  Check out the link below:
So here's to Jack Nicholson at 80 and our fervent appreciation once again for the many great roles he has made his own over the years with that distinctive acting style of his and the familiar devil-may-care grin.  Happy 80th birthday Jack.  We salute you for your substantial contribution to acting and to cinema in general.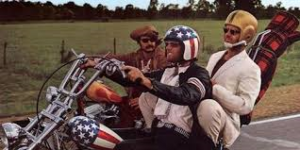 Easy Rider (Dennis Hopper 1969)
After years of B-movies and parts that were a far remove from the promise of stardom, Jack finally made his breakthrough in this groundbreaking road movie which helped herald the new wave in Hollywood and advanced the cause of the counterculture generally.  Nicholson plays George Hanson, an ACLU lawyer who has a definite proclivity towards the hard stuff.  He befriends bikers Wyatt (Peter Fonda) and Billy (Dennis Hopper) in jail (following yet another bender on his part) and, upon release, accepts their invitation to accompany them on their journey to New Orleans.  Brought in to replace Rip Torn, who'd first been cast in the role of the genial yet weak-willed George (Hopper and Torn fell out prior to principal photography), Jack seized the opportunity with great aplomb and secured his very first Academy Award nomination.  He's not in the film for very long, but his performance is beautifully measured oscillating as it does between humour, vulnerability and thoughtfulness.  'This used to be a hell of a good country,' he opines in that very famous camp fire scene in which he, Fonda and Hopper apparently used marijuana for real.  It was a star-making turn which set the thirty-something actor on his way and cultivated one of his several onscreen personas, that of the well-educated odd man out who hovers on the very margins of society.  And who can possibly forget that memorable sequence in which he mucks around on the back of Peter Fonda's bike to the strains of If You Want to Be a Bird as performed by The Holy Modal Rounders.  Eye-catching stuff indeed and the movie industry would soon have even more to sit up and take notice of.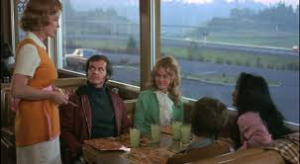 Five Easy Pieces (Bob Rafelson 1970)
Jack took the central part in this one playing Robert 'Bobby' Eroica Dupea, a one-time talented piano prodigy who now works on an oil rig in sunny California.  Bobby has spurned the greater part of his privileged past and spends his present days drinking too much and cheating on his rather clueless girlfriend Rayette (Karen Black).  None of his current crop of friends are aware of his former life and Bobby seems to revel in this very personal sense of freedom.  Learning that his father has become incapacitated from a series of strokes, Bobby determines to return to the family home in Washington State.  To his consternation, Rayette insists on tagging along and so looms an unwanted meeting of his previous life and present existence.  Following on from the huge success of Easy Rider, Five Easy Pieces further established Nicholson's growing credentials as an actor of some merit and depth.  Watch in particular one of the film's final scenes in which he movingly attempts to communicate with his unresponsive father.  It's a moment of genuine poignancy and provided yet more evidence of the actor's near-limitless ability.  The cafe scene – as pictured above – is, of course, one that many a movie fan will particularly recall (Jack tells the somewhat surly waitress what she can do with the chicken).  Fine support comes courtesy of Lois Smith, Susan Anspach and Karen Black in particular.  Jack himself was nominated for the Oscar for Best Actor, but lost out to George C. Scott in Patton.  The film was also nominated for Best Picture, Best Supporting Actress (Black) and Best Original Screenplay (Rafelson).  The five easy pieces of the title refers to five classical piano pieces played during the course of the film.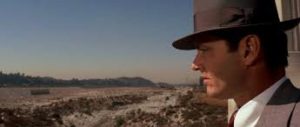 Chinatown (Roman Polanski 1974)
Polanski's masterful neo-noir mystery is not just one of the great films of the 1970s, but regularly turns up on all-time favourite lists and is held up as a classic example of the hard-boiled private eye story.  But, of course, it's much more than just that.  Jack plays J.J. 'Jake' Gittes, a former police lieutenant who now plies his trade as a private investigator.  Tasked with the seemingly insignificant assignment of keeping tabs on the chief engineer of the Los Angeles Department of Water and Power (Hollis Mulwray), by a woman posturing as his wife, Gittes soon finds himself drawn into a web of manipulation and deceit where public interest is constantly supplanted by a sinister force advancing its own personal and financially-lucrative cause.  The highly complex plot of Chinatown (involving matters such as water rights and land acquisition) is quite a thing for the first-time viewer to get their head around, but this classic film more than pays off repeated viewings.  Nicholson is at the height of his powers in one of his very best screen performances and he is suitably supported by a terrific cast which includes Burt Young, John Hillerman and a very young Diane Ladd.  His female co-star Faye Dunaway plays the tragic Evelyn Mulwray who becomes a love interest in spite of the rather lurid secret she holds.  The great John Huston is perfectly eerie as the domineering Noah Cross, a tycoon of frightening dimensions who has no moral boundaries.  Standout scenes include that very final one ('Forget it Jake.  It's Chinatown.'), as well as the infamous moment when director Polanski (briefly appearing as a diminutive hood with a large knife) slashes Gittes's nose.  The script by longtime Nicholson pal Robert Towne deservedly won an Oscar for Best Original Screenplay and has been eulogised by more than a few film critics and scholars.  A 1990 sequel directed by Nicholson himself, and also written by Towne, didn't quite capture the ambience and intrigue of the original, but is still worth a watch nonetheless.  A planned third film about Gittes towards the end of his life has never materialised.  It seems unlikely that it will now.  For more reading on the career of the aforementioned Robert Towne, and with a particular focus on Chinatown itself, check out this book as published by my good friend Elaine Lennon:
https://www.amazon.co.uk/ChinaTowne-Elaine-Lennon-ebook/dp/B01KCL3YXQ/ref=sr_1_1?s=books&ie=UTF8&qid=1490787347&sr=1-1&keywords=chinatowne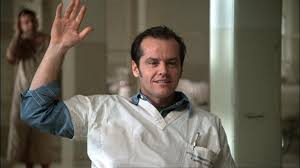 One Flew Over the Cuckoo's Nest (Milos Forman 1975)
Jack finally won the Best Actor in a Leading Role Oscar for this one (his fifth nomination to that point in total) and Milos Forman's adaptation of the 1962 novel of the same name by Ken Kesey became only the second film to win the Big Five Academy Awards.  Nicholson plays repeat offender Randle McMurphy who is sent to a mental institution in Oregon following a case of statutory rape.  Upon entering the facility the otherwise bright and highly articulate McMurphy is struck by the staid routine and somewhat iron-fisted regime of the head nurse, Nurse Ratched (Louise Fletcher, also in an Oscar-winning performance).  The two are set on a collision course from the get-go as the self-assured and highly-persuasive McMurphy encourages his fellow patients to think for themselves and act with a degree of abandon.  These include one 'Chief' Bromden who eventually breaks his own self-imposed silence to communicate with McMurphy.  The film rights for Cuckoo were originally owned by Kirk Douglas (who'd played the central part in a 1963 Broadway production) and, following his failure to get studio backing for a big screen version, he passed it on to his son Michael.  Douglas senior was too old for the part by then, so Nicholson – firmly established as the hottest American actor of the decade – secured the casting.  It's yet another wonderful performance from the star as he balances wit, defiance, irreverence and no small amount of compassion.  A faultless supporting cast includes the aforementioned Fletcher, Will Sampson, Danny DeVito, Christopher Lloyd and Brad Dourif.  Watch out especially for that poignant yet uplifting finale, McMurphy's 'no crazier than the average asshole' speech and also the scene in which the latter pretends he's watching the World Series on television.  An absolute classic that also nabbed Oscars for Best Picture, Best Director and Best Adapted Screenplay.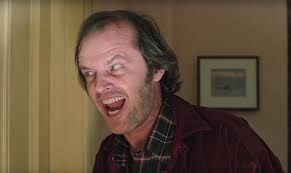 The Shining (Stanley Kubrick 1980)
'Here's Johnnyy!'  Jack delivered one of his most over-the-top performances in this one, but it's not out of kilter with Kubrick's overall design at all.  The writer-director's intention clearly was to deliver an embellished and – at times – near-surreal adaptation of Stephen King's 1977 novel of the same name and, in this respect, Nicholson's increasingly unhinged Jack Torrance is perfectly in sync with this.  So much has been written about this film over the years (and over-analysed in my opinion) so let's just focus on the actor here.  It's a very familiar Jack who turns up at the Overlook Hotel in the film's opening scenes.  He's generally well-groomed, has a suave urbane exterior, and is not averse to a little casual humour, particularly when advised of the Overlook's rather grisly history.  The transition to madness is suggested by Kubrick in those shots of the actor employing a thousand-yard stare and, especially, as he looms ominously over the model of the hedge maze.  One of my own favourite scenes in the entire film is that of the young Danny Lloyd (playing Danny Torrance) sitting on Jack's lap and innocently enquiring as to why his father isn't sleeping properly.  The tension is upped when the boy (imbued with psychic abilities) asks if Jack would ever hurt him or his mother.  'I love you more than anything else in the whole world and I'd never do anything to hurt ya!  Never!' Jack replies with not a little hint of overshadowing malice in his voice.  It's very interesting to note that – years later – author King reiterated his long-held opinion that Nicholson was not the right actor for the part.  He may not have been a fit for King's Jack Torrance as per the source material (bear in mind that the film deviates significantly from the book), but it's hard to imagine anyone else but Jack fitting the billing in such a full-on, amplified performance.  Besides the aforementioned scene with Lloyd, who can possibly forget the 'all work and no play makes Jack a dull boy' segment in which Jack gives free reign and expression to Torrance's all-consuming descent into insanity.  A horror masterpiece with Jack in superb form as the haunted and haunting patriarch.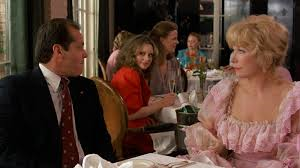 Terms of Endearment (James L. Brooks 1983)
A second Oscar (this time for Best Supporting Actor) came about as a result of James L. Brooks' comedy-drama in which Nicholson plays the retired astronaut next door, Garrett Breedlove, to Shirley MacLaine's Aurora Greenway.  Terms charts the many years in a relationship between the aforementioned Aurora and her headstrong daughter Emma (Debra Winger) who marries one Flap Horton (a very youthful-looking Jeff Daniels) against her mother's wishes.  Her husband's work commitments as a university teacher take Emma far away from her slightly overbearing but doting Mom, and the relatively young widow seeks love, tenderness and general diversion elsewhere.  Enter Jack's character who she only seems to spot (and hear) fleetingly during these years.  Going on a somewhat forced date eventually, the two become involved, but the restless Garrett fears any ensuing obligation.  Finally, tragedy in Aurora's own family life appears to bring them back together.  Brooks apparently wrote the part of Breedlove (adapted by the way from the novel of the same name by Larry McMurtry) for Burt Reynolds, but the Deliverance star had to decline owing to a prior commitment.  Again, as with so many of his performances, it's difficult to imagine any other actor in the role except Jack.  His scenes with Shirley MacLaine are especially memorable ('I'd rather stick needles in my eyes.') replete as they are with humour, perception and just generally marvellous acting.  MacLaine netted an Oscar for herself for Best Actress in a Leading Role and writer-director Brooks won three for Best Picture, Best Director and Best Adapted Screenplay.  A very fine film of its kind which spawned a host of replicas and imitations, but be prepared with the hankies for that ending.  Danny DeVito and, in particular, John Lithgow also shine in the supporting cast.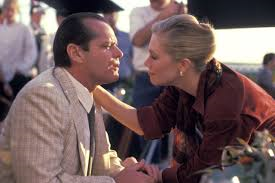 Prizzi's Honor (John Huston 1985)
Dark comedy-drama courtesy of John Huston in which Jack plays Charley Partanna, a hit man for a New York mob.  Whilst attending a wedding, Charley becomes besotted by the beautiful Irene Walker (Kathleen Turner), a supposed tax consultant who is in fact a contract killer like Charley himself.  Affairs of the heart prove problematic when it comes to mafia business and despite a whirlwind romance (which leads to their marriage), Charley soon discovers that he cannot entirely unshackle himself from his duties to the Prizzi family.  Matters in this regard are complicated even further as it emerges that the duplicitous Irene has pilfered money from the clan.  Jack's performance in this one borders ever so slightly on the hammy, but, as with the aforementioned The Shining, the exaggerated tone and style here is in keeping with that of the film itself.  One of John Huston's very last films, Prizzi's Honor was nominated for a total of eight Academy Awards, including Nicholson for Best Actor in a Leading Role.  The director's daughter, Anjelica Huston, won the Oscar for Best Supporting Actress for her portrayal of Maerose Prizzi, Charley's former girlfriend who still holds a torch for him.  In doing so she became the third generation of the Hustons to triumph at the awards ceremony following in the path of her father John and grandfather Walter.  The subject matter of married contract killers employed to wipe each other out was surely an influence on the Brad Pitt/Angelina Jolie 2005 vehicle Mr. and Mrs. Smith one would think.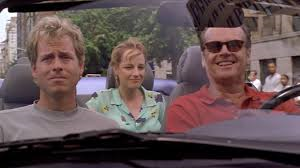 As Good as It Gets (James L. Brooks 1997)
Jack joined forces once again with writer-director Brooks and won his second Best Actor Oscar (making a grand total of three) into the bargain.  In this very well-observed and superbly-acted comedy-drama, Nicholson plays Melvin Udall, a highly-successful novelist who has more than a misanthropic streak about him and a very cutting manner which puts him at odds with most people.  He is an obsessive-compulsive who absolutely insists on routine and has an innate fear of germs, as well as scoffing at any form of social attachment.  Melvin's outlook on life changes quite significantly through a series of events involving his neighbour Simon (Greg Kinnear), a gay artist who is viciously attacked in his apartment, and a waitress named Carol (Helen Hunt) who patiently serves him breakfast every day in spite of his less than endearing demeanor.  The trio eventually take a trip to Baltimore so that Simon can ask for financial assistance from his estranged parents.  In the meantime, Melvin has helped Carol with her son's medical bills and grown attached to Simon's dog Verdell (which he'd previously tried to dispose of down the garbage chute).  It all sounds highly convoluted of course, but As Good as It Gets works quite beautifully thanks to perceptive writing by Brooks and co-screenwriter Mark Andrus and a few stellar performances by the leads.  Helen Hunt also won an Oscar for Best Actress and Greg Kinnear was nominated for Best Supporting Actor.  Standout scenes involve Jack singing the familiar Monty Python song Always Look on the Bright Side of Life to Verdell and the restaurant scene he shares with Hunt in Baltimore ('You make me want to be a better man').  Harold Ramis, Cuba Gooding Jr. and Shirley Knight turn up in supporting roles.  Watch out also for cameo appearances by The Big Chill director Lawrence Kasdan (as Melvin's reluctant psychiatrist) and Lethal Weapon writer Shane Black (as a rather narky cafe manager).  It's Helen and Jack's show from first to last though and the latter posted one of his biggest box office hits in the process.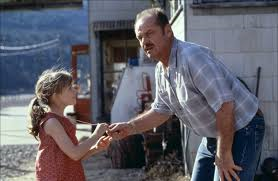 The Pledge (Sean Penn 2001)
Fine and somewhat underrated mystery-drama in which Jack plays a retired detective, Jerry Black, who becomes obsessed with the appalling murder of a young girl named Ginny.  Trying his level-hard best to settle into his new life of manifest ease, Jerry gradually comes to realise he cannot entirely discard the memory of this case, particularly as he has sworn to Ginny's bereaved parents that he will find their daughter's killer.  Matters become even more intricate when he becomes involved with a single mother Lori (Robin Wright Penn) who has a daughter of an approximate age to the murdered girl.  Jerry's own private investigations into the matter unearth references to a giant and a picture of a black station wagon and, unlike his former colleagues, he's far from convinced that the case is closed believing the real perpetrator to be still at large; however, disastrous consequences for himself and his burgeoning relationship with Lori ensue when he uses her daughter as bait in an attempt to lure his own chief suspect.  Sean Penn's third directorial effort builds slowly but highly effectively towards a climax with unanswered questions and a morally ambiguous act by its protagonist.  Has Jerry utterly lost the viewer's empathy by the film's end or is he the tragic hero of the piece?  Watch and decide that for yourself.  Jack is in typically terrific form as the increasingly consumed Jerry and he's supported by a wonderful supporting cast which includes Vanessa Redgrave, Sam Shepard, Mickey Rourke, Benicio Del Toro, Aaron Eckhart, Helen Mirren and Patricia Clarkson.  Kudos as well to Penn for some fine work behind the camera.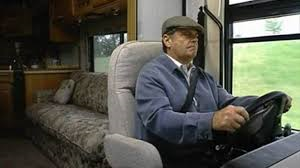 About Schmidt (Alexander Payne 2002)
And finally to this one in which Jack plays Warren R. Schmidt a recently retired actuary who is struggling to make sense of his existence and that of the world around him.  Schmidt abhors the thought that the life he has led may have been ultimately fruitless and such fears are heightened in light of his wife's sudden passing and the impending marriage of his daughter to a rather lowly waterbed salesman.  In order to give his life some meaning, Schmidt decides to sponsor a Tanzanian boy named Ndugu and begins corresponding with him in a series of meandering letters.  Meantime, he also determines to derail his daughter's wedding plans (for her own good as he sees it) and sets off in his newly-purchased Winnebago from Omaha, Nebraska to Denver, Colorado.  En route he visits his old Alma mater and hometown and accepts the hospitality of a friendly couple with some disconcerting and equally hilarious consequences.  Plans to dissuade his daughter from marrying do not quite work out either and Schmidt throws his back out whilst sleeping on his son-in-law's waterbed.  A hot tub scene with the latter's mother is also the source of some embarrassment for the discomfited Schmidt.  Alexander Payne's comedy has its laugh-out-loud moments, but it's also a touching meditation on an individual's advancing years and the existential crisis which descends when that same person questions his very worth in the universe.  A Best Actor Oscar nomination was thoroughly deserved once again by Jack, and he's ably supported by a cast which includes Kathy Bates, Hope Davis and Dermot Mulroney.  The final scene – in which Schmidt reads a letter received from a nun writing on behalf of Ndugu – is appropriately bittersweet in keeping with the overall tone of this fine film.  I dare you not to shed a tear as Jack does in that very final frame.